Saints and sinners
Simon Veness predicts more woe for the New Orleans Saints as 'Bountygate' rumbles on.
Last Updated: 19/04/12 10:06am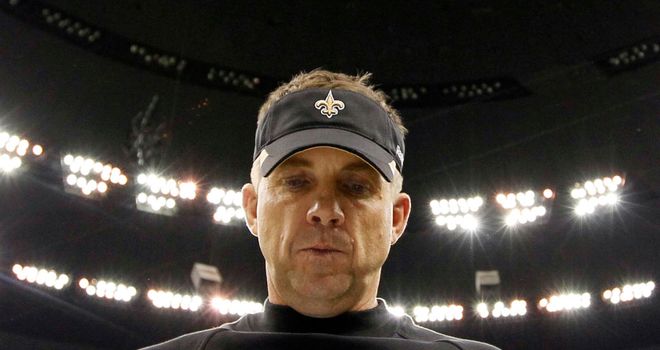 'Free Sean Payton' say the banners in Louisiana; "Stay on the sidelines for the rest of 2012," replies the NFL; and 'Woe is us,' cry a legion of New Orleans fans.
And all of them have a point in this crazy, mixed-up world that is the NFL off-season.
Just in case anyone's been on holiday to Mars for the past six weeks (and, you have to say, it worked out well for John Carter), here is the state of play in The Big Easy:
1) They were found to have been running a three-year, pay-to-maim 'Bounty' system under previous defensive coordinator Gregg Williams.
2) Head coach Sean Payton, general manager Mickey Loomis and assorted other coaches and front-office staff all developed acute myopia for the duration of William's tenure with the team.
3) The Commish, aka Roger Goodell, was mad, as in record-suspensions-and-fines kind of mad.
4) Just about everyone involved on the Saints staff was banned, fined and/or made to stand in a corner with a dunce's cap on.
5) New Orleans appealed. And sounded out Bill Parcells about a one-year gig as head coach.
6) The league promised us the results of their appeal last Tuesday; er, Wednesday; make that Thursday; no, it's Friday after all.
7) On Monday, they announced the suspensions/fines/dunces caps all stood.
8) Meanwhile, Parcells insisted he wanted no part of the collapsing house of cards in the Louisiana Superdome, sorry, Mercedes-Benz Superdome.
9) Instead, the Saints made assistant head and linebackers coach Joe Vitt interim head coach. Even though he is also banned for the first six games of the season.
Confusion
Confused? You soon will be in this long-running farrago that shows no signs of settling down anytime soon, or even this year.
Consider this. Payton is still in charge until midnight on Sunday, when his suspension kicks in until end-of-the-season o'clock. Then Vitt takes over until August 30, after their final pre-season game, when he will join his boss on the sidelines.
Until after Week Six, when he will take over the reins once again from offensive line coach Aaron Cromer.
If the team is still in contention at that stage, which has to be a major doubt, it will probably have a lot to do with Drew Brees, arguably the best rallying-cry player in recent NFL history. Brees is to New Orleans what David was to the Israelites about 2,900 years ago; a giant-killer and motivational force par excellence, and he will need all his powers of inspiration to keep the Saints relevant through the first weeks of the campaign.
Only, the front office has yet to engage in new contract talks with their MVP (Motivating Value Persona), choosing instead to make him their FTP (Franchise-Tagged Player) for the year, which he clearly chafes at, insisting "we're continuing to work on a long-term deal" while the team says nothing of the sort (seeing as they have a few other things to worry about just now).
The precarious status of the team's QB is nothing compared to the potential chaos that is waiting to explode on the defensive side of the equation, however.
Judgement
As part of the NFL's big investigation into the Williams clobber-at-all-costs scheme, anywhere between 22 and 27 players are still awaiting Goodell's judgment.
Of course, some of those players, like Scott Fujita, have since moved on to bounty-pastures new, like Cleveland, which means the full force of The Commish's final verdict will not fall solely on the Saints.
But, if even HALF the 22-to-27 are still in Superdome country (and only two players - Fujita and Jonathan Vilma - have so far been ID'd in the team's Hall of Shame), the defence could yet be utterly devastated by fines, suspensions and/or more dunce's caps.
But why the wait, you ask? Surely if Goodell was so quick - and severe - in his ruling on the sideline folks involved, he will be equally keen to mete out punishment to those who actually carried out the bounty-hunting?
Well he is, but he can't. Because the league has asked the players' union to advise on the appropriate measures for the guilty parties in helmets and pads. And the union isn't in any hurry to pitch in as their noses have been put seriously out of joint by what they claim is the league's "failure to consult" with them on the whole investigation.
Lawyers
In fact, the union has gone as far as to retain a high-powered law firm to potentially represent the players AGAINST the league if any charges are brought.
And that is where things could go south at a major rate of knots, as various sources suggest there is no love lost between The Commish and DeMaurice Smith, head of the NFLPA, despite them resolving the long-running lockout dispute last year.
If anything, there is still residual distrust, at least on the part of the Union, for anything that emanates from Goodell's office, hence you can start to see the two sides lining up for another major tête-à-tête in the near future (while all the lawyers rub their hands with glee).
Where this leaves New Orleans is now anyone's guess, and the fact it could be another long-drawn-out bare-knuckle legal brawl just fills your heart with dread.
So, for all those die-hard fans in southern Louisiana with their hand-made signs (and T-shirts) proclaiming 'Free Sean Payton,' they might be better advised to insist 'Sort Out The Saint 22 (or is it 27?)'. Or they might not have much of a team come September.