Ambition Peys off
Simon Veness looks at the impact of Peyton Manning's surprise decision to sign for Denver.
Last Updated: 22/03/12 2:29pm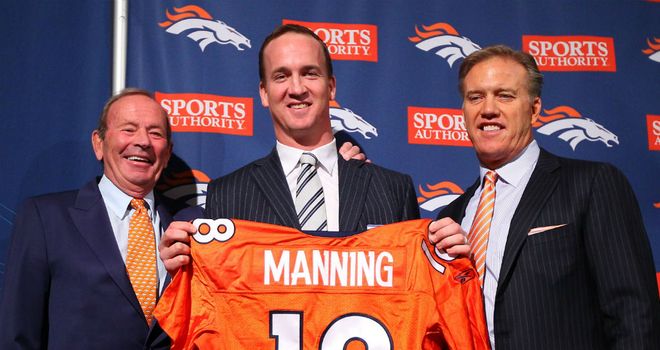 You can imagine the Miami fan who's been out of town for a few days and gets back to hear there's been quarterback movement all over the NFL.
"So," he asks his friend excitedly. "Did we get Peyton Manning?" "Nah," says his Dolphins compadre. "He went to Denver."
"Denver?" says the first fan. "How did he end up in Tebow-land?" His friend considers, quietly, and replies: "John Elway. He sold Manning on the Broncos. No-one else had a chance."
"So," asks the Optimistic One. "Did we get Matt Flynn instead?" "Nah," groans the stay-at-home. "He went to Seattle." "OK, now I know you're kidding me," says numero uno. "He was a cert to come here because we've got ex-Green Bay offensive coordinator Joe Philbin as head coach. All the pundits said we HAD to get him."
The jaundiced fan spits absent-mindedly into Biscayne Bay. "Flynn said he felt Seattle was a programme on the rise. He felt comfortable there."
"The Seahawks? On the rise? They only finished one game better than us in the weak-as-water NFC West. We play in a tough division!"
His friend looks downcast, knowing the next question wasn't going to be pleasant.
"In that case, tell me we at least got Alex Smith from San Francisco? He HAS to be mightily pee'd off that the 49ers wanted Peyton more than him after he took them to the NFC Championship game last season."
"Nah," says No. 2. "Didn't get him either. We had him here for five hours. Five HOURS. And we couldn't close the deal. He's gone back to San Francisco."
Stunned at this latest news, his mate shakes his head in disbelief. "But, there are quarterbacks going all over the place. We must have got SOMEBODY. We must have picked up someone decent. Haven't we?"
Mumble, mumble, mumble, says his friend.
"Huh? I didn't catch that. What did you say?" Mumble, mumble "David" mumble, mumble "Garrard" mumble.
"Please tell me you didn't just say David Garrard, who couldn't find a job when he was kicked out by Jacksonville freakin' Jaguars last season??!! PLEASE TELL ME WE DIDN'T SIGN DAVID GARRARD!!!!!!"
Fan number two exits, still mumbling. And you can pretty much repeat the scene across Tennessee, who were really convinced they were about to sign No 18 from Indy, and San Francisco, who gave it a good shot and also came up empty (and now have to try to appease Smith).
Losers
But, while Miami could well be classed as the Biggest Loser in the Great Manning Drama of 2012, they are not alone. There are casualties all over the place as the NFL readjusts to the seismic shift that has placed a Hall of Fame quarterback in Denver (and his predecessor with the New York Jets - and if anyone says they saw THAT one coming, they are just flat out lying).
The Titans missed out on Houston defensive end Mario Williams, who opted for the megabucks of Buffalo, when they set off blindly in pursuit of Manning.
The Dolphins annoyed their fans still further by parting company with wide receiver Brandon Marshall, thus ensuring that even if they HAD signed another viable quarterback, he wouldn't have anyone to pass to.
New Orleans, never likely to be interested in the big free agent target, have had to put the franchise tag on their own Big Dog, Drew Brees, who has made it clear that's not his idea of a healthy long-term relationship (not that the Saints don't have a few other things to worry about now, what with having no coaches left for the coming season).
Bidding wars
Cleveland got punk'd by Washington when it was clear Manning wasn't going to be a Redskin. Mike Shanahan's outfit went all out to get into position to land Robert Griffin III in the draft, thus leaving the Browns - who had made it clear Griffin was their top target - trailing in their wake and wondering how they can make nice again with Colt McCoy.
Kansas City couldn't even buy a seat at the big Manning Sweepstakes table, thus ensuring they continue to look like Nobody's Choice of a place to go.
And Arizona also have to soothe some ruffled feathers with Kevin Kolb after their failed pursuit of Manning, while they have also missed out on the bumper crop of wideouts available in free agency while they were looking elsewhere (and re-signing Early Doucet doesn't count when they could have had any of Vincent Jackson, Mike Wallace, Mario Manningham, Brandon Lloyd, Robert Meachem or Laurent Robinson to bolster their feeble receiving corps).
Oh, and the Jets just set themselves up for the biggest quarterback circus of the year, lumbering fragile incumbent Mark Sanchez with the 600lb gorilla of Tebow-mania to contend with as well as a team riven by locker-room feuds. If that isn't a recipe for disaster, I don't know what is.
It is an astonishing trail of gridiron debris in the wake of the biggest free agent pursuit of all time, and there could well be more if the ravenous Broncos also succeed in hoovering up Jeff Saturday - Manning's longtime Colts centre - Reggie Wayne and Dallas Clark as well.
It clearly makes Elway the league's current big power-broker - and the likes of Miami, Arizona and Tennessee the power broken.
Denver's Super Bowl XLVII odds have already shortened considerably and, while it is still perfectly possible the all-in gamble on Peyton could blow up on them if he doesn't regain full strength in his throwing arm or reinjures his surgically-repaired neck, they will certainly be the team to beat now in the AFC West.
And those two poor Miami fans could have a pretty long, miserable year to look forward to if Garrard really IS the best they can get at quarterback.