Peyton's blind date
Simon Veness is enthralled by the big Peyton Manning saga in his latest View from America blog.
Last Updated: 19/03/12 5:11pm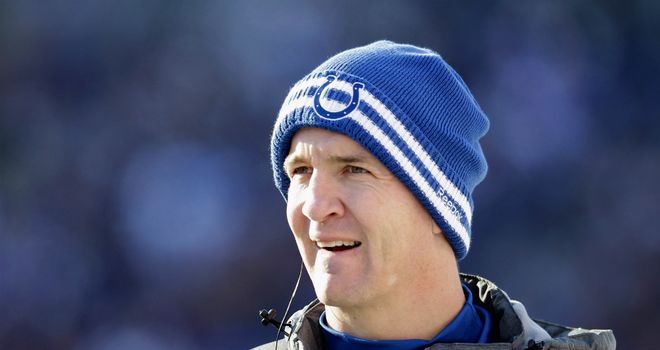 Cilla Black would have had a phrase for it. "It's make-yer-mind-up-time, chuck. So are you going for Contestant No1, No2 or No3?"
And Peyton Manning has to come up with an answer, or his recent US version of Blind Date is going to come up awfully empty.
Because that's where we are at the start of Week Two of the great Manning Magical Mystery Tour. We have narrowed the 'suitors' down to the classic Cilla threesome, and it really is D-Day for the former Indianapolis heartthrob.
Unlike the 'blind' date format, Peyton has had plenty of chance to assess his potential match, asking more questions than the usual contestant ever gets to pose and has compiled more notes on each one than 'Our Graham' ever imagined.
But, just as every person behind the partition has to make their choice on the information available to them, so the four-time NFL MVP now needs to decide. Is it...
Contestant No1 - the Denver Broncos, that fun-loving, high-altitude, defence-laden and Tebow-mania'd crowd who managed to 'win' the AFC West last season with a less-than-sparkling 8-8 record. Or...
Contestant No2 - the Tennessee Titans, Nashville's free-wheelin', mid-table-finishin', talent-lackin' bunch of ever-hopefuls with a wacky owner and an even-greater need at quarterback. Or...
Contestant No3 - the surprising San Francisco 49ers, who already seemed to have their 'quarterback of the future' only to throw their hat into the three-ring circus and declare themselves a Manning suitor.
Test drive
All three have, apparently, already been on their own 'blind date' with the man in question, taking him for a test drive and ensuring neither his throwing arm nor his neck are likely to fall off under the stress of hurling a 40-yard curl route.
In local parlance they have 'kicked the tires', checked the salary cap (Manning will demand at least $90million to suit up for his new team) and made out a logical case why Peyton would want to move his family to Denver/Nashville/San Francisco.
The weather, city facilities, stadiums and even where his wife Ashley might like to go shopping have all been analysed to the nth degree. And the experts all agree - it could be any one of the three.
There are intriguing possibilities with each choice and each of the potential cities is currently in a frenzy of 'Will he? Won't he?" anticipation.
In Denver, they are worrying how current incumbent Tim Tebow - and his legion of devotees - will take to being No2 all over again behind the Indy legend.
In Tennessee, they are going overboard on the colour orange, working on the theory it will appeal to Peyton's college background at the University of Tennessee. They have just about promised him everything but the first-born son of every native Tennessean for the next 40 years in a breathless bid to make Manning a Titan for life.
Meanwhile, in the City by the Bay, a most curious development has piled the pressure on head coach Jim Harbaugh and owner Jed York. While the 49ers opted for the stealth approach and worked out with Manning while maintaining the lowest of profiles, they made it seem current incumbent Alex Smith would continue his good work from 2011.
But, as soon as word of their interest leaked out, Smith was on a plane to one of the other spurned Contestants, Miami, and his free agency signing for the Dolphins looks like it could go ahead at any moment.
Which might well leave San Francisco the most empty of suitors if Peyton decides on Denver or Nashville. No Quarterback of the Future and no Quarterback of Today.
Which in turn has the rumour-mongers insisting it HAS to be the 49ers as they now have too much to lose.
And so it goes on. Denver, Tennessee and San Francisco. You pays your money and you takes your choice. Round and round it goes, where it ends up, nobody knows.
Only someone DOES know, and he is going to have to decide. And soon, otherwise the whole NFL-watching world is going to implode under the weight of this breathless waiting game, this Blind Date without a decision.
Merry-go-round
Depending on the (eventual) outcome of Peyton and Ashley's next address, the ultimate losers in this amazing gridiron merry-go-round could well be Miami.
Not only have the Dolphins been made to look also-rans in the great Manning Sweepstakes, they also lost out in what most had assumed would be their immediate fall-back choice, Green Bay back-up Matt Flynn.
The presence of former Packers assistant coach Joe Philbin as the new Dolphins head man had seemed like a near-guarantee of getting the impressive Flynn in aqua and orange in 2012.
Only Seattle got there first (so long, Tarvaris Jackson) and Philbin's hunt for his on-field general suddenly looked desperate. Cue the jilted 49er and his flight to Florida. Only, if Manning decides on the Titans or Broncos, Harbaugh is going to want to keep his 'Quarterback of the past' firmly under lock and key. And Miami lose out. Again.
It is a real quarterback carousel of the mind-boggling kind just now, but the spinning has to stop, and soon.
It's make yer mind up time. And Manning doesn't have Cilla or Graham to help him with his choice.