The $28m question
Simon Veness reports on the great Peyton Manning-Indianapolis Colts divorce in his View from America.
Last Updated: 12/03/12 8:47am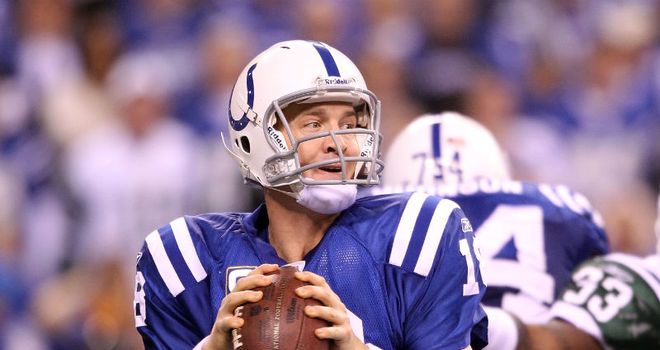 And so it begins. A tearful and emotionally-wrought Indianapolis press conference to announce the parting of the ways of arguably the greatest quarterback of the modern age and the franchise created in his image.
Under immediate headlines like 'Parting is such sweet sorrow' (ESPN), 'Next Stop Where?' (Sports Illustrated), 'Sad Ending' (Fox Sports) and 'One giant leap for Mann-kind' (OK, I made that last one up), the iconic near-36-year-old said farewell to the city that has been his home for the past 14 years.
And hello to...?
And there's the $28million question. Colts owner Jim Irsay made it patently clear there was no way the team could contemplate clinging on to a player who has completed 399 touchdown passes, bagged four league MVP awards, one Super Bowl ring and won the heart of just about every Indiana native.
Not when:
a) They have a major re-building job at hand
b) They have major salary-cap issues
c) They have a huge job to re-build the team
d) They no longer have the pieces in place to support him
e) And oh, did we mention we have re-building to do?
It was an extraordinary press conference, the billionnaire owner stopping and starting several times as he battled with the emotions of cutting ties with a player who has obviously meant the world to him, countless thousands of fans, the city, Lucas Oil Stadium, the state and even the state of the NFL.
Then there was Manning himself, one of the most sincere and devoted - not to mention downright obsessive - players in NFL history. This was not your average sporting separation, and the strong bond between the two men was as clear as the great job Indianapolis did in staging the recent Super Bowl.
But it was also clear that, no matter the sentiment, the NFL is first and foremost a business, and business is the first, second and third items on the agenda. How else do you explain a situation where a first-ballot Hall of Famer is let go even when he will have at least 10 eager suitors ready to fix him up with a new 'marriage'?
Six Million Dollar Man
Yes, his neck has seen more surgical procedures and more doctor's examinations than the Six Million Dollar Man. He also comes with a much higher price tag. And, with top draft pick Andrew Luck waiting in the wings, why risk your future on a medically-suspect veteran when you can get the 22-year-old version for half-price (and there are few who will dispute Luck is one of the rarest and most promising talents to emerge since Manning, P, left the University of Tennessee)?
And you can't blame Irsay for a second. The man who has carefully built the franchise over the past 15 years knows he has to do it all over again, and a clean break with the past is the best way to do it.
Sure, no-one has meant more to The Horseshoe (as they like to call it) than Archie's second-oldest son, but, just as San Francisco needed to move beyond the Joe Montana era to Steve Young, the Colts can no longer tie their fortunes to No 18.
With no cast-iron guarantee of his quarterback's health - and, despite insisting no-one has worked harder to rehab from all those surgeries, Manning had to admit he still has a way to go - Irsay simply could not contemplate trying to weigh long-term salary cap issues with the short-termism implied by maintaining the status quo.
You also suspect the prospect of Manning ducking and diving behind a newly-rebuilt offensive line, without the safety blanket of old reliables like Reggie Wayne and with no running game to speak of has kept Irsay up in a cold sweat at night, full of nightmare scenarios involving neck impacts, stretchers and accusations of sporting negligence.
And yet among the first reaction of pundits over here was to say 'How could you?' 'How dare you?' And 'What were you thinking?'
As if Irsay just turned up in the morning and decided, "Aw, what the heck, let's give it a try with another quarterback."
It is as insulting as it is blinkered and, frankly, 24-carat dumb.
Doubt
Of course, Manning might still have a few seasons of stellar performances left up his sleeve. Of course he might come back and beat the Colts, lead a new team into the play-offs and grab another Super Bowl ring, or even two. After all, Montana came close to repeating the feat at the age of 37 in his first season at Kansas City after San Francisco decided it was time to call time on their 'marriage.'
But, if there is anyone out there with the inside track on Manning's medical status who can say, unequivocally, that there is no risk involved, then I have yet to hear them.
And for the likes of Jerry Rice (and others on ESPN) to say that Manning at Miami or Washington is a "guarantee" of at least 10 wins next season is just Cadbury's fruit 'n nutty.
The press conference DID ignore the twin 600lb gorillas in the room, which whispered insistently, "What if, what if..?"
As in, "What if Manning wasn't due a $28million signing bonus this week?" And "What if the Colts didn't have the first pick in the Draft?"
There was no-one brave enough, or quick enough, to ask those questions. But, ultimately, you suspect Irsay would have brushed them off with the same ease with which he said: "This is not the end of our relationship, it is really the beginning," which, of course, made no sense.
But he didn't need to make sense. The real issues were clear but unspoken. And life for the Colts and for Peyton must go on, albeit in separate directions.
Destination
Now it is a question of who wins the battle for his services? Free agency officially begins next Tuesday (March 13) but teams can make a bid for Manning as soon as his official release clears NFL head office.
I've already pointed out that Miami and Washington are the most likely suitors, but ex-Indy boss Tony Dungy believes his former star will look anywhere BUT the NFC East (so as not to be in direct competition with brother Eli), which could leave the Redskins looking even more forlorn.
The Dolphins could be a good fit - unless they decide Green Bay free agent Matt Flynn is a better long-term bet. That leaves Arizona and New York Jets as the next two in the best position to be all-in on the Manning stakes.
Sports Illustrated duo Peter King and Tony Banks both believe Seattle would be the ideal situation, and that Seahawks head coach Pete Carroll is keen on the idea. Kansas City, Houston, San Francisco, Jacksonville and even Dallas are rated as wild-card entrants.
But I can't honestly see anything beyond those first four - and I still have a hankering both Peyton AND Wayne could end up at FedEx field playing for Mike Shanahan.
It's all speculation at this point, though. Absolutely no-one, and I mean not a single scribe or pundit, has a solid inkling of where this story will go next.
So, let the (bidding) games begin...