The Manning lottery
Simon Veness looks into his NFL crystal ball to see who Peyton Manning will be lining up for next season.
Last Updated: 17/02/12 10:28am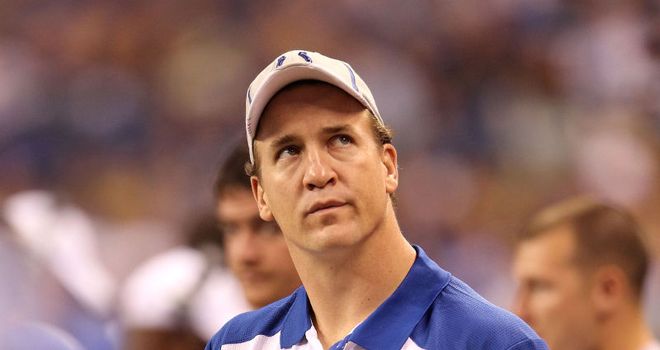 Writer's Log, Star Date 76-MMXII (that's the 76th day of the year 2012, or March 16 to you!)
We are now cruising a month ahead of time in the Galaxy of Predictionia, seeking out new life and new NFL civilisations, boldly going where no writer has gone before...
OK, so I'm just taking a week off next week and I thought I would try to get a running start on the next fortnight by looking ahead a bit - to a month in the future, in fact - and try to predict what the football landscape might look like when the all-important date of Free Agency kicks in (March 13).
The dust from Super Bowl XLVI has now well and truly settled, Gisele Bundchen has put all her toys back in her pram (or, more likely, had hubby Tom Brady do it for her), Eli Manning has been to Disney World, and all the ticker-tape has been hoovered off the streets of New York in time for Linsanity to take over (New York Knicks point guard Jeremy Lin, in case you need to know, who has led the team to seven straight victories as a complete unknown and inspired all kinds of sporting mania in the Big Apple, where fans haven't been accustomed to seeing their team win much in recent years).
So it is definitely time to take stock and look ahead a little at what the 'quiet' part of the NFL year holds, and the answer could be "quite a lot" when you consider some interesting free agent possibilities. And, of course, that is all waiting on the outcome of a certain Manning, P, deciding where his future lies by March 8 (when he is due a $28million signing 'bonus' if Indianapolis think he is still their man).
If the Colts quarterback is deemed to be too dodgy a bet to carry on - as seems increasingly likely, in the light of a fourth neck surgery being identified last year, casting even more doubt on his ability to make a full recovery - his long-time team will add him to the free agent list, and the scramble for his services could be historic.
Yes, there have been some big free agency targets in recent years - none 'bigger' than defensive tackle Albert Haynesworth, who subsequently turned out to be big only in girth and associated with the word 'bust' - but they would all pale into insignificance compared to the potential free-for-all for the Hall-of-Famer. If Manning himself decides it's worth pursuing another team.
And that latter remains the wildest of wild cards in what could turn out to be a frenzied free agent period. There are some hugely conflicting reports of what Manning can - and, more tellingly, can't - do with his throwing arm at the moment, but most indications are still that he will want to carry on, even if the Colts decide it's not with them.
There are also generally regarded to be another 20 or so genuine 'prizes' among those players with the ability to listen to all-comers for where they play in 2012, with the greatest depth lying in a rich wide receiver group that includes Mario Manningham (fresh from his XLVI heroics), Marques Colston, DeSean Jackson, Dwayne Bowe, Vincent Jackson, Reggie Wayne, Wes Welker, Stevie Johnson and Brandon Lloyd.
Possibilities
So let's try to wade through a crystal ball of possibilities with the offensive skill positions:
Quarterbacks: Manning (likely); Matt Flynn (Green Bay; likely); Alex Smith (San Francisco) and Drew Brees (New Orleans), both going nowhere; Rex Grossman (Washington; possibly).
Miami, with former Packers offensive coordinator Joe Philbin now in charge, seem likely to make the strongest play for Flynn, and Aaron Rodgers' back-up has shown he is ready for the full-time challenge. Washington are well placed to launch a bid for Manning, although Arizona and Seattle could give them a run for their money - and, according to one domestic rumour mill, even the New York Jets.
What that means for Grossman is anyone's guess. But, if not-so-sexy Rexy is back under centre for the Redskins again next season, there could be a mass fan exodus from FedEx Field.
Wide receivers: here's where things get seriously interesting. With nine genuine blue-chip candidates (listed above), the hunt for wideout-poor teams to get better in a hurry will be intense and, if Washington do 'win' the Manning lottery, they will also need to grab one of this group to give Peyton a go-to guy.
Of the 'magnificent seven,' DeSean Jackson and Welker would appear to be going nowhere, with their teams likely to do whatever it takes to keep them, even if Jackson's petulant attitude last season rankled with several coaches.
Wayne to the Redskins would make a lot of sense but, equally, Colston would be a major upgrade, especially as the Saints seem unlikely to be able to hang on to both him and guard Carl Nicks - and Nicks is regarded as a 'must keep' to ensure the future health of Brees.
Vincent Jackson seems set on leaving the Chargers, with whom he has clashed repeatedly in recent years, with all of Chicago, Cleveland, Denver, Jacksonville, Minnesota, New England, New York Jets, Houston and St Louis among the most receiver-needy. Of course, if San Diego lose Jackson, they would then need to grab one of other available wideouts to replace him, and it's possible to see a real feeding frenzy around this position.
So don't be surprised next season if we see Jackson at the Rams, Bowe at Minnesota, Manningham in Cleveland, Lloyd in Chicago and Johnson in Houston (giving the Texans a pair of Johnsons to throw to - what could be more confusing for defensive coordinators!).
Enigma
Running backs: Matt Forte (Chicago), Marshawn Lynch (Seattle) and Ray Rice (Baltimore), all going nowhere; Michael Bush (Oakland, likely); Peyton Hillis (Cleveland) and Kevin Smith (Detroit) both possible.
Bush has proved he is a potential starter and the Raiders will struggle to come up with the money to keep him. Ironically, his all-round game (he also caught 37 passes in just nine starts last season) could appeal most to the Browns, meaning the enigma of Hillis would be surplus to requirements. The Giants could well be interested if that is the case.
Smith could be an intriguing pick-up if the Lions decide four running backs is one too many. Another good pass-catcher, he would be a distinct upgrade for the likes of Tampa Bay or the Jets.
Tight ends: Fred Davis (Washington; going nowhere); Jermichael Finley (Green Bay), Daniel Fells (Denver), Visanthe Shiancoe (Minnesota), all possible; Jeremy Shockey (Carolina), Scott Chandler (Buffalo) John Carlson (Seattle), all likely.
It isn't the richest crop at this position, especially as the Packers seem likely to put the 'franchise' tag on Finley (although a number of drops last season also make him less than 100 per cent certain of his status there).
Carlson could well interest his old boss Mike Holmgren at Cleveland and Dallas would be a good fit for Chandler alongside Jason Witten. Don't be surprised if Shockey turns up in Miami (finally, after flirting with them in 2011) while Chicago's lack of a top receiving tight end could lead them to make a run at Shiancoe, who the Vikings will struggle to keep if big money is involved.
All in all, it promises to change the gridiron vista quite considerably. And, for those in Washington, Miami and Chicago, visions of XLVII may not just be a pipe dream.