NFL: Sky Sports' Kevin Cadle previews New England Patriots @ Baltimore Ravens
Kevin Cadle looks at who will come out on top between New England and Baltimore.
Last Updated: 19/12/13 5:06pm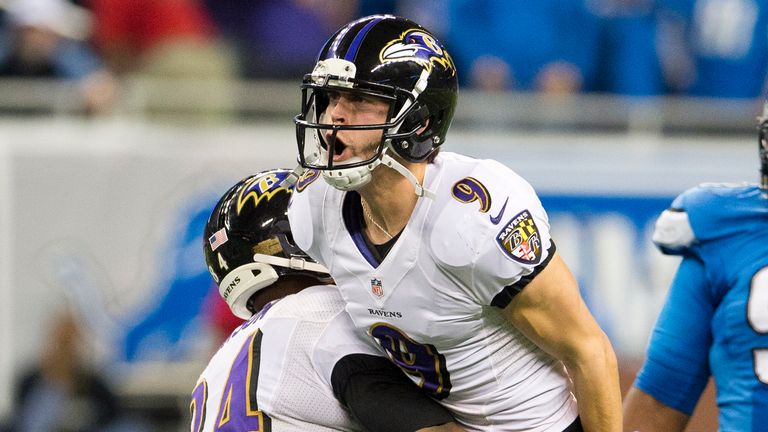 The Ravens are the reigning Super Bowl holders after beating San Francisco 49ers in February and four straight wins means they can still make the play-offs.
The Patriots suffered a 24-20 defeat away to the Miami Dolphins on Sunday so can Tom Brady and co clinch the East without the services of Rob Gronkowski. Here our NFL expert Kevin Cadle previews the action...
New England Patriots @ Baltimore Ravens - live on Sky Sports 2HD 9pm
There were no touchdowns for the Baltimore Ravens in their last victory against the Detroit Lions. It's a good thing their kicker Justin Tucker was on par, he's been kicking the ball extremely well all season long.
The defence is starting to come around in Baltimore but they still have yet to find that oomph that they need to have to have a consistent offensive game.
It was a big win against Detroit, an important win which keeps them in the hunt for a post-season berth.
As far as New England is concerned, Tom Brady is having a very good season. It hasn't been the greatest of his seasons, but I think that has a lot to do with the receivers.
You're talking about being down five receivers from what he had last season. Going into the game two of the guys who were his better receivers this year, who were better statistically-wise but maybe not production-wise - rookies Aaron Dobson and Kenbrell Thompkins - were out for the loss against the Miami Dolphins last time out.
You look at this New England team and for some reason they find a way to get it done. You can't count them out of the picture because of Tom Brady and Bill Belichick.
Belichick prepares his team from one to 46. Each man on that team is prepared to the upmost to be ready to perform in a football game. You look at their squad and you cannot count New England out.
There are two games left and in positions one to six in the AFC nothing is set. Miami have to win out and hope a couple of other things go their way for them. If Baltimore loses then that opens the door for Miami to slide right in there. If Baltimore wins then it knocks Miami back another notch.
The gates are open for teams to make it happen. You just have to make sure you take care of your business. If you take care of your business then you have a chance of making the play-offs come the last two weeks of the NFL season.