NFL: Sky Sports' Kevin Cadle previews Green Bay Packers @ Dallas Cowboys
This is the last-chance saloon for the Green Bay Packers and the Dallas Cowboys on Sunday.
Last Updated: 16/12/13 5:59pm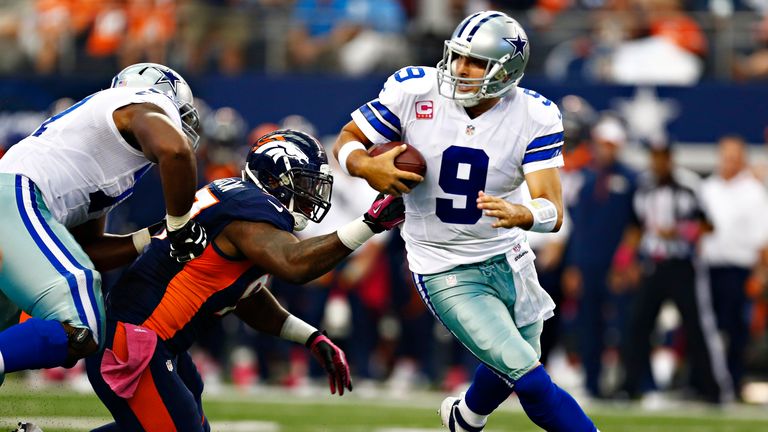 The Cowboys command a 7-6 record and currently sit one game behind the Philadelphia Eagles, while the Packers (6-6-1) are nowhere near the team they normally are with quarterback Aaron Rodgers in the team.
Our NFL man Kevin Cadle can't wait for Sunday's late game this week to commence...
Green Bay Packers v Dallas Cowboys - live on Sky Sports 2HD 9pm
This is what you call a loser bowl. Whoever loses this one is definitely out of the play-off hunt.
Green Bay will not have Aaron Rodgers but they were able to get a victory last week. A close victory, but it was a victory.
Rodgers is a major loss because maybe you're talking about the best quarterback in the National Football League. I love Payton Manning, Tom Brady is a fantastic talent as is Drew Brees, but Aaron Rodgers might be top of the class.
To lose that and then you have to go with basically a guy who you got off the street to come in and be your quarterback, because your second string quarterback gets hurt.
Your third string quarterback gets hurt and now you've got to bring a guy back to play with you three seasons hence as your quarterback, that's a major blow to their team, especially in that division that they are in because they were in the hunt to win the division and secure a play-off place.
The Dallas Cowboys - you just don't know which Dallas Cowboys team is going to show up from week to week.
That's just the kind of organisation that they are. That's just the kind of football team they have been for the last four or five years. You just don't know what's going to happen with the Dallas Cowboys.
Kev's call: This might be a great game for Dallas after a terrible game on Monday night against Chicago, but then with Dallas you just don't know.