NFL: Sky Sports Kevin Cadle previews Seattle Seahawks v San Francisco 49ers
Kevin Cadle can't wait for a physical battle between the Seahawks and 49ers live on Sky Sports.
Last Updated: 08/12/13 7:04am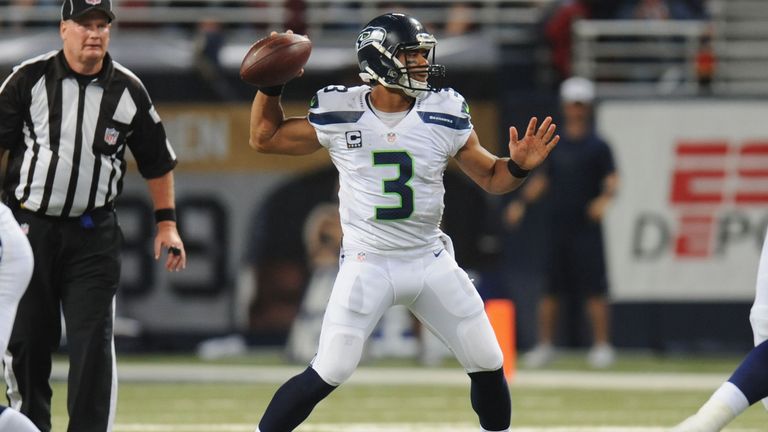 The Seahawks look to have the NFC West wrapped-up, but form goes out the window when these two get it on as there's no love lost when the two tribes go to war.
Our NFL man Kevin Cadle can't wait for a brutal showdown in our second Sunday game this week...
Seattle Seahawks San Francisco 49ers - live on Sky Sports 3 9pm
When you talk about consistency on both sides of the ball, both offensively and defensively then the Seahawks are right up there so it's right that they are being billed as the best team in the league.
When you compare them to other teams in the NFL there aren't many that you can say they've got it going on on both sides of the football, but the Seahawks definitely have.
Quarterback Russell Wilson is playing superbly on offence and on the defensive side they're playing tough, tenacious football - the defensive side really come to play, they dislike their opponents and make it really tough.
Wilson is just getting better and better and what you need to look at it with him is that he is improving in every single category. He had a great year last year but this season so far his numbers are better in all the stats used in the quarterback ranking game.
He was part of that famous rookie quarterback class of last season with Andrew Luck and RGIII the first two picks in the draft and Ryan Tannehill of Miami another first round choice, while Wilson was a third rounder.
But while those other guys have been taking all the accolades Wilson has been by far the most consistent of them over the first two seasons.
For the 49ers, playing in one of their last games at Candlestick will fire them up, but what will fire them up even more is that these two teams really don't like each other, which is great for us as we'll see a knock 'em out, rock 'em, sock 'em battle right there.
San Francisco I think has conceded that they aren't going to catch Seattle in the race for the divisional title, but they're in a real fight to be in that NFC play-off mix so they need wins to make sure they make the play-offs.
You can't win the Super Bowl if you're not in the play-offs and San Francisco now need to keep winning, and if they are going to get back to the big game they're going to have to go a different route and win their games on the road.
They also need to make a statement to Seattle so that if they meet in the play-offs the Seahawks know that the 49ers are capable of knocking them out.
I just find San Francisco a very inconsistent team right now though, they're playing great defence but Colin Kaepernick and the offence are still trying to find themselves.
Kev's Call: I've just got to go with Seattle here, I like everything they're doing at the moment and they're a far more consistent team.
The Seahawks have that faith, that togetherness no matter what, and you know they're going to play solid ball throughout the game no matter the circumstances, and that will get them the job done on Sunday.