NFL: SKy Sports man Kevin Cadle talks Detroit Lions v Philadelphia Eagles
Can the Lions down the Eagles? Kevin Cadle gives us his view of Sunday's first live NFL game.
Last Updated: 08/12/13 9:42pm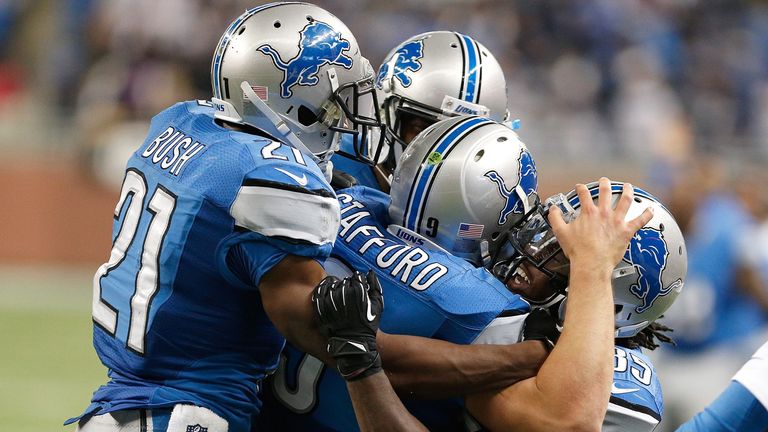 The Eagles are at home and have won their last four on the spin, but the Lions are one of the most talented teams in the league, when they put it all together..
Our Sky Sports anchor man Kevin Cadle picks the bones out of our first live game on Sunday
Detroit Lions @ Philadelphia Eagles - live on Sky Sports 3 5.30pm
You never know which Detroit team is going to show up, but then again you just don't know what Philly team will be there as well so this is a game of who are you!
If you look at Detroit they have one of the most talented teams in the National Football League across the board - no doubt about that.
The addition of Reggie Bush on offence has been a significant boost for them and they've certainly got the goods on the defensive end, they just need to be a bit more consistent.
Matthew Stafford has to protect the football at quarterback a little better and if he does that then I don't think the Philly will have an answer to Calvin Johnson out wide.
So when you look at it I just think that this Detroit offence will be able to find some room against this Philly defence.
With so many talented players on show it's kind of a coin flip to decide who will come out on top in this one.
Nick Foles is playing fantastic football right now, he's got 19 touchdown passes with no interceptions and is just one away from Peyton's record start to his season of 20 TD throws before his first pick.
So Foles is playing fantastic and I do like what Philly brings to the party after their last few games.
The Eagles are at home as well and they've won two in a row now so playing at The Linc is finally paying some dividends after such a bad start in front of their home fans.
Kev's Call: I just think this Detroit offence has got it going on right now, and I've just got a feeling that they can come away with the 'W' this week.