NFL: Kevin Cadle previews the final part of Thanksgiving triple
Kevin Cadle previews the final Thanksgiving clash between the Steelers and Ravens.
Last Updated: 27/11/13 9:38pm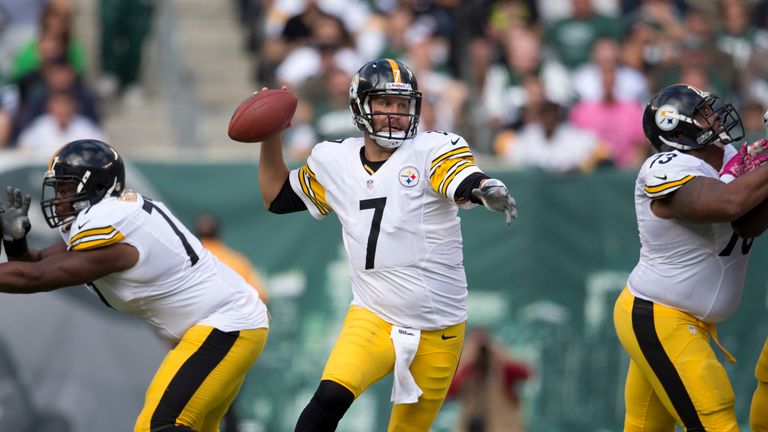 The final part of the three-course serving sees the Pittsburgh Steelers take on the Baltimore Ravens in an AFC North grudge match.
Here our NFL expert Kevin Cadle gives us his views on the last game of America's traditional football feast.
Pittsburgh Steelers @ Baltimore Ravens - 12.30am (Friday) Sky Sports 1 HD
This right here is the start of the play-offs in the AFC because whoever loses this game basically has their season ended, like in the play-offs when you lose and your season is over with.
This game will have that same type of atmosphere that for whoever loses has to accept that it's curtains for them and their season.
It's Joe Flacco v Ben Roethlisberger - Big Ben of the Pittsburgh Steelers has won seven out of the last nine facing off against Flacco and the Baltimore Ravens so I'm sure he'll feel very confident.
This used to be the most physical game around - it used to be a smash mouth football series with a lot of tough running, tough physical defence and a lot of dislike on both teams in the ball game.
Back in the day these were two of the best running teams in the league, right now they're two of the worst - two of the bottom six in terms of rushing the football.
So it's going to go into the hands of Flacco and Roethlisberger and, for me, Roethlisberger has better weapons. They're getting it done at a higher pace than Flacco and the Ravens are this season.
There's no question about it, the Pittsburgh Steelers are on the up and up. When you look at the Ravens they're on the up and down, will it be an up day or a down day for them? You just don't know.
When Pittsburgh came here to London they hadn't won a game and now they are on a three-game winning streak and they're actually 5-6. They're now playing Pittsburgh Steelers football and playing tough defence.
Roethlisberger's doing the job he needs to do and they have a nice running back as Le'Veon Bell is starting to emerge. Their running game isn't quite there yet but he's starting to emerge nicely.
When you look at the Ravens, their running game has been struggling all year long with Ray Rice - and he's a Pro Bowl running back as well.
Kev's call: I like the Pittsburgh Steelers - the Baltimore Ravens are under a big cloud and I think it's the Steelers that come away with the victory in this one.