NFL: Kevin Cadle previews the first part of Thanksgiving triple
Kevin Cadle previews the first two games of Sky Sports' NFL Thanksgiving triple-header.
Last Updated: 27/11/13 9:39pm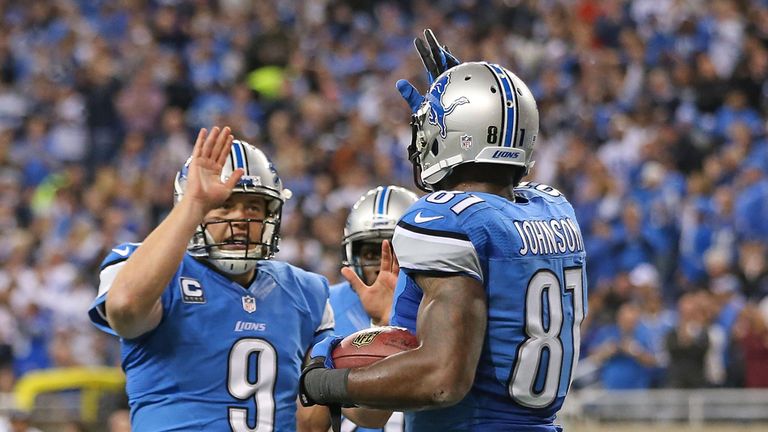 The first part of the three-course serving sees the Detroit Lions host bitter rivals the Green Bay Packers before the Oakland Raiders travel to Dallas to take on the Cowboys.
Here our NFL expert Kevin Cadle gives us the lowdown on the first two games of the football feast.
Green Bay Packers @ Detroit Lions - 5.30pm Sky Sports 1HD
Back home in America we love to eat turkey on Thanksgiving but what else do we do? We love to watch football.
We've got 12 hours of football on live back-to-back-to-back on Sky Sports so we'll enjoy it all over here as well.
It's going to be very difficult for the Packers if they lose this one - it won't be over as it's a very tight NFC North with Detroit 6-5 and the Packers 5-5-1.
But the Packers, in their last four games, haven't had their main man Aaron Rodgers, who could possibly be the best quarterback in the National Football League.
He's been out injured with a collarbone problem and if he gets back soon things could get back on track. They could still have a shot but it's going to be very difficult if they don't win this game, and they're 0-3-1 since Aaron Rodgers went down.
They'll probably play Matt Flynn ahead of Scott Tolzien at the quarterback position. Flynn came in in relief of Tolzien on Sunday in Tolzien's second start - I don't think head coach Mike McCarthy was too pleased by his performance - and gave the team a boost, passing for 216 yards and giving them a chance to win.
Green Bay have had four different starting quarterbacks this season and it's hard to win with that many changes. But it should be Flynn getting the call. He backed up Rodgers for four years before leaving and chasing the money - it didn't work out but I think Green Bay are glad to have him back.
For Detroit to win they need to stop kicking their own selves via penalties and via turnovers. They continually beat themselves and they need to stop doing that.
But they're up against a team that is formidable for them - quarterback Matt Stafford has never beaten Green Bay. He is 0-6 against the Pack.
Without Rodgers he might get his chance but this Detroit team needs to keep their focus, if they do that they can be a very talented team but at some stage someone always breaks down and that's what they need to avoid.
Kev's call: I've got to go with the Detroit Lions finally to break that duck - 2003 is the last time Detroit won on Thanksgiving Day. They play every year along with the Dallas Cowboys so ten years later I think they finally find themselves with a positive result.
Oakland Raiders @ Dallas Cowboys - 9pm, Sky Sports 1 HD
Nothing is comfortable for 'America's team', they always make it tough. On Sunday Tony Romo had his 21st career game winning drive but now the Cowboys are playing Oakland from the AFC West and Dallas are 0-3 against the division this season.
The Raiders should have won on Sunday, rookie quarterback Matt McGloin should've had his second consecutive victory. He did what he needed to do but the defence couldn't keep Tennessee out of the end zone at the end.
It'll be very difficult for the Raiders on Thursday. McGloin has shown he can lead the team to victory but the Cowboys know they need to have this one, they'll have close to 100,000 fans there backing this Dallas team so it'll be tough for this young Raiders team.
The Cowboys are getting some of their injured guys back, which is a plus, but we're not sure how they'll play when coming back off injuries.
Kev's call: It was a big momentum boost for Dallas to come back against the Giants and win that one on Sunday. At this point of the season they know they need to win this one and they should do.