Giant strides
Kevin Cadle previews the second part of Sunday's double header, Dallas at NY Giants.
Last Updated: 22/11/13 2:05pm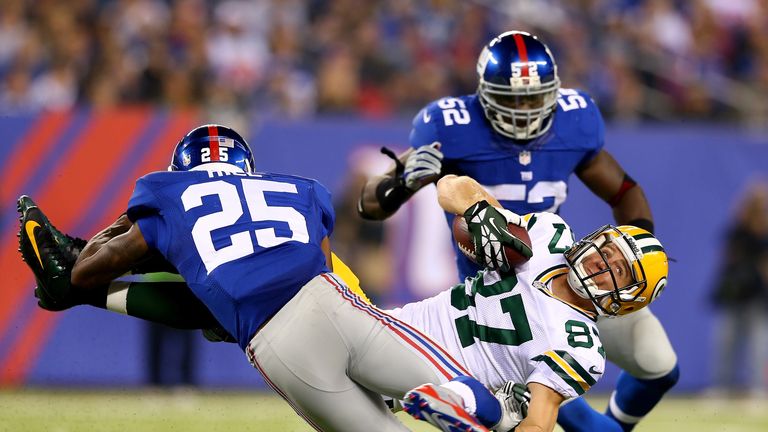 The second part of Sunday's NFL double header is Dallas Cowboys' trip to take on division rivals New York Giants.
Both teams could yet win the NFC East this season and this game is approaching must-win territory.
The Giants are among the form teams in the league after winning their last four games, while the Cowboys come in fresh off their bye week.
Our NFL anchorman Kevin Cadle previews the action.
Dallas Cowboys (5-5) @ New York Giants (4-6), Sky Sports 3HD, 9pm
There have been a lot of surprises in the NFC East - or as some are calling it the 'NFC least' - this season and all four teams are still in contention for the division title.
Even the 3-7 Washington Redskins have a chance. It will go down to the last possible moment, the last second of week 17.
That is what makes this week's match-up at Metlife Stadium so important, especially for the Giants who will be legitimate contenders again with a victory.
Tom Coughlin's men are riding a four-game winning streak and have a good shot of starting the season 0-6 and making the play-offs.
The turnaround has been founded on improvement from their defence - which has really come alive in recent weeks - and quarterback Eli Manning.
Manning is not throwing the ball away as much as he did in the first six games when he was a turnover machine; he's still throwing it away, but has tempered it somewhat.
Once you get on a roll, you get those first couple of wins and everything starts to fall into place. The Giants have managed to catch that momentum. They were on a negative momentum slide early in the season and now they are on a positive one.
Dallas are a different story... They call them 'America's team' but everyone is trying to figure out why; it's been a long time since they won a play-off game or have been a team of consequence.
They are coming off their bye week, playing for the first time since shipping 49 points against New Orleans Saints.
The bottom has fallen out of the Cowboys defence, which creates turnovers but also gives up a massive amount of yardage and points. That is what is killing them.
Quarterback Tony Romo is playing as well as he possibly can but when the defence is just not holding their end of the bargain then it becomes very tough for Dallas to be a championship-calibre football team.