The Geno project
Kevin Cadle previews the first part of Sunday's double header, New York Jets at Baltimore Ravens.
Last Updated: 22/11/13 12:05pm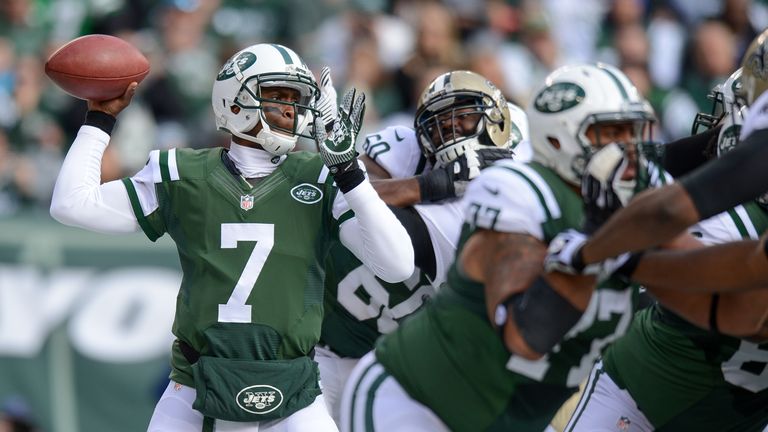 Reigning Super Bowl champions Baltimore Ravens entertain New York Jets in the first part of our Sunday double header.
The Ravens have struggled to a 4-6 record this season and sit bottom of the competitive AFC North.
But they still remain in the hunt for a wildcard play-off spot, as do the Jets who sit at 5-5 in second place in the AFC East.
Our NFL anchorman Kevin Cadle previews the action.
New York Jets (5-5) @ Baltimore Ravens (4-6), Sky Sports 3HD, 5.30pm
The only consistent thing about New York Jets this season has been their inconsistency; they are a win one, lose one type of team.
A 1-4 record on the road suggests they will find it tough going at M&T Bank Stadium, especially if Geno Smith continues to turn the ball over.
The Jets' rookie quarterback has eight interceptions and a couple of fumbles in the last five games.
He will be under pressure again because the Ravens will target him, going after Geno and making him rush his decision making is the way to beat this Jets team.
This game is unlikely to turn into a shoot-out as both teams share similar traits, strong defence and mediocre offence.
Baltimore quarterback Joe Flacco has been having a tough season.
Flacco got his big-money deal after the Super Bowl win but this is not even close to being the same offence as last year.
Anquan Boldin was traded, tight end Dennis Pitta got hurt and three-time Pro Bowl running back Ray Rice is struggling in the backfield.
The offence is just not in sync and Flacco has to take responsibility for that. You pat the quarterback on the back when you win, so I guess you have to smack him on the butt when you lose...