NFL: Sky Sports Kevin Cadle previews this weekend's two live games
Kevin Cadle can't see it being a happy return to New Orleans for the 49ers as they face the Saints.
Last Updated: 17/11/13 11:52am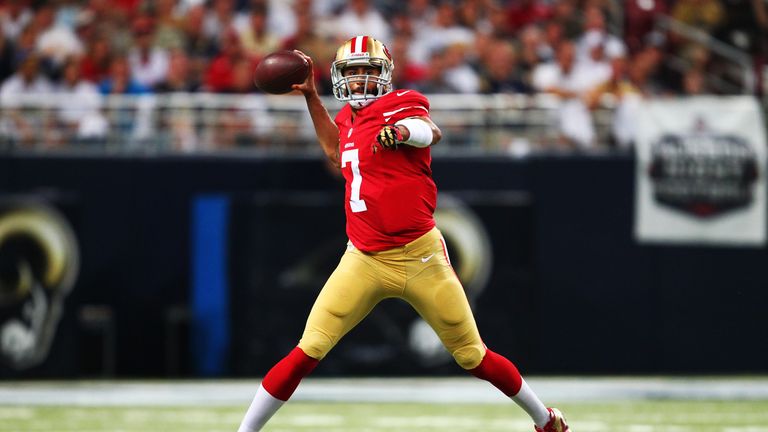 First up we've got the battle of Ohio, which unusually sees both Cleveland and Cincinnati well in the play-off picture. The Bengals, who lead the AFC North, have lost the last two and the Browns and Ravens are right on their tails.
Our second helping of gridiron sees the 49ers return to New Orleans - the scene of their Super Bowl loss in February - looking to bounce back from last week's defeat, but can they break the unbeaten run from the Saints? Our Kevin Cadle talks you through Sunday's games.
Cleveland Browns @ Cincinnati Bengals - Sky Sports 2 from 5.30pm
Both of these teams are still in the play-off hunt, but for me, Cincinnati are in the driving seat as they lead the division. They've suffered a lot of injuries on the defensive end but that's not the thing that's causing them the problems right now.
It's the quarterback Andy Dalton who's started to throw the ball to the other team like he's got a lot of great friends on the other side! And that's the thing that has to stop - for the Bengals to get back to their winning ways he has got to stop turning the ball over.
That has been the Achilles heel that people always talk about when you look at the Cincinnati Bengals, they've got a nice offence, a good defence but who's the quarterback? And what is Andy Dalton going to do next, especially in the big games.
He had a nice streak going earlier on in the season when he was playing fantastic football but the last two games he's been atrocious and he has to get back on the mark.
The Cleveland Browns are still in the running as far as a play-off wild card position goes so this is a very important game for them and their rookie head coach - but they may have found a quarterback they need in Jason Campbell.
Campbell has come in the last two games and has five touchdowns with no interceptions so he's come on and given them the spark that they need at the quarterback position.
It's hard to say who needs this one more, because if Cincinnati loses then the boo birds are definitely going to come down hard on Andy Dalton and that team and that's one distraction they don't need to have.
San Francisco 49ers @ New Orleans Saints - Sky Sports 2 9pm
Our second game should be a great one! The San Francisco 49ers going on the road to the New Orleans Saints - and the Saints - you talk about a Jekyll and Hyde team! This is a team that on the road are 2-2 but are undefeated at home.
Drew Brees is also a bit Jekyll and Hyde at quarterback - his quarterback rating as almost 50 points higher at home than it is on the road so the fans from 'Who Dat' nation in New Orleans will be pumped up for this because this is a big, big game for them.
San Francisco cannot afford to lose because they are already a couple of games behind Seattle in the division and that puts them in a tough fight for the wild card because I don't think they're going to win that division now.
All of a sudden they're a wild card team and in a fight for their lives, so this should be a very good competitive football game.
Because of the way things have flown I'll have to say the New Orleans Saints should win just because they're playing at home, and getting it done at home and the way they play on the their home field makes them favourites.
San Francisco are coming off a tough loss to Carolina, 10-9 when they didn't score a touchdown and they're really struggling in passing game with so many injuries.
Vernon Davis suffered a concussion and may not be ready to play - he's their leading receiver and they're a completely different team with him than without him so if he can't play they'll find it tough.