NFL: Sky Sports' Kevin Cadle previews Sunday double header
Our Kevin Cadle picks his winners from two tough divisional battles coming up on Sky Sports on Sunday.
Last Updated: 08/11/13 2:38pm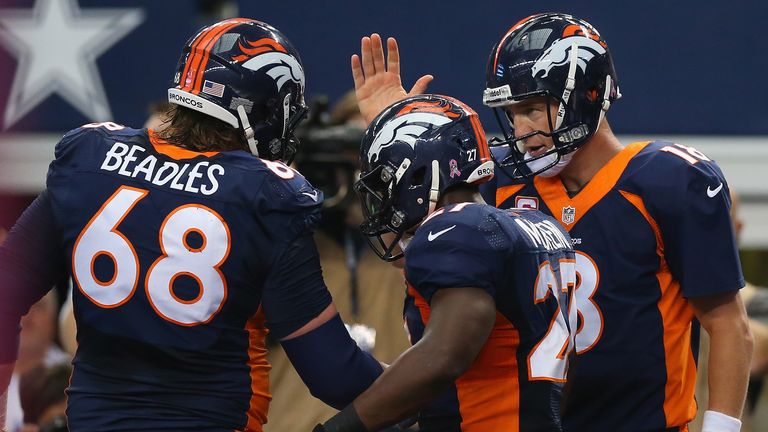 The Chargers are much improved but coming off a heart-breaking loss last week and at 4-4 this is a must-win for their play-off hopes, but Peyton Manning and the powerful Broncos lay in wait.
The NFC North is the most competitive in the league with three teams on the same leading record, and whoever comes out on top in Chicago will have a big advantage going forward.
Here are Sky Sports anchor Kevin Cadle talks us through Sunday's double header and picks out his winners.
Detroit Lions @ Chicago Bears - Sky Sports 2 HD 5.30pm
This division is pretty hot right now with three teams in the mix, the Packers have a huge problem with Aaron Rodgers injured but the Bears have little bit of trouble themselves with their quarterback Jay Cutler being down.
Josh McCown has played pretty well, Cutler looks like he'll be back for the game on Sunday but they at least know they are comfortable with their back-up quarterback.
The team in the best position is probably the Detroit Lions, they have the health of their players, Reggie Bush is playing fantastic and they have the top receiver in the league in Calvin Johnson and their quarterback Matt Stafford is one of the top quarterbacks in the NFL.
Their defence is also starting to play well, they're confident, they play tough, physical, they play dirty, they do what it takes to be successful! So watch out for Detroit at the top of the NFC North.
I like the way Detroit has come around, they're playing pretty good football. It's a boost for the Bears to have Jay Cutler back but how sharp will he be after that injury?
I like the way Detroit use Reggie Bush in their offence. Defensively they're getting better week by week so I like what they bring to this party. It also helps coming off the bye week, most teams come off it pretty successfully, and it's one less day for the Bears to get ready for them so a lot of things are in Detroit's favour.
Cadle's Call: I like Detroit, even though they're on the road I just thing they bring more to the party.
San Diego Chargers @ Denver Broncos Sky Sports 2HD 9pm
Denver have lost their head coach John Fox to illness, but offensively I don't think it'll make one bit of difference.
Defensively Jack Del Rio is the defensive coordinator so he'll have to manage having two jobs on Sunday now he's the fill-in while Fox is out. He has to get that Denver defence in order as that's what holding them back right now.
The only game they've lost so far was to Indianapolis and they scored 33 points - but the other team scored 39 so that's the thing they have to get right on the defensive side.
San Diego are playing very well compared to how they've played the last couple of seasons, but they're coming off a devastating loss when they thought they'd scored the winning touchdown but replays showed they fell a few inches too short and they end up losing in overtime.
That's got to hurt them so how they respond from a heart breaking loss is going to be big for the Chargers.
They're 4-4 and still in the mix as far as a wild card goes but you go and lose a game at this stage of the season to a divisional opponent and that makes the road to play-off land very, very difficult.
Cadle's Call: My favourite player in the NFL is Peyton Manning so I always choose Peyton. When in doubt choose Peyton, and I'm not going to change that now!