NFL: Sky Sports Kevin Cadle calls the Sunday NFL double header and looks back at Wembley
Kevin Cadle says the Jets need to forget about last week to have a chance against the Saints.
Last Updated: 01/11/13 4:39pm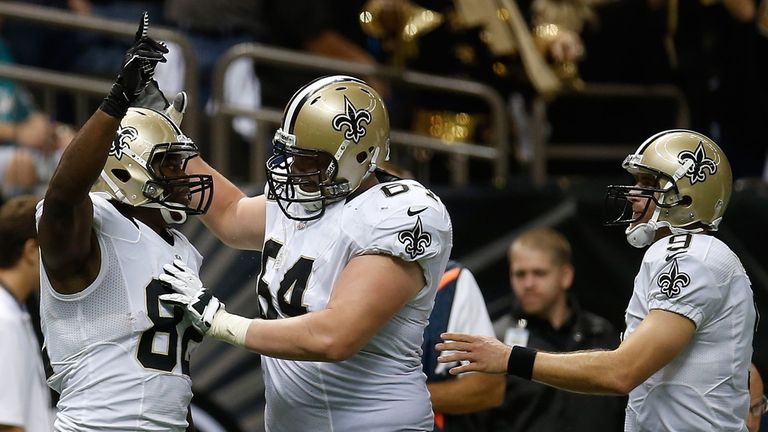 We get to see a real contender in the New Orleans Saints against a Jets team that was destroyed last week, while two strugglers face off in Oakland and Philadelphia - but only one of these teams are heading in the right direction.
Sky Sports' Kevin Cadle runs the rule over our Sunday double and looks back at the latest Wembley outing..
Saints @ Jets
After last week's bad defeat against the Bengals, there's nothing Rex Ryan can say really, apart from go home, it was one game, we're going to deal with it from there.
They got basically massacred, it only counts as one loss in the column, but they got massacred.
So there's nothing he can say - let's get ready for the next game, let's not look back, as a matter of fact let's not even look at the film of that game and just get ready for the next one.
But the thing with this one is with his twin, Rob Ryan, being the defensive coordinator for the New Orleans Saints, and both of them are boisterous characters so that's going to be something very interesting to watch right there.
Eagles @ Raiders
I was asked on Sky Sports News if the loser of this one can kiss goodbye to the play-offs, well they don't even have to play this game to kiss goodbye to the play-offs -neither one of these teams is a play-off team!
But the thing with the Oakland Raiders is they're starting to get better, that's the thing with them, they're starting to get better, but the Philadelphia Eagles on the other hand they're getting worse.
They brought a new coach in, spent a lot of money, gave up a lot of dosh to get their players in but their thing is going in reverse.
The Oakland Raiders are a franchise in build with a young quarterback, young coach and they're trying to make things happen and they are progressing at a steady rate.
Neither team is going to make the play-offs but it's all about trying to be the best you can be at the end of the season.
Wembley wonders
There's no question this event is growing. This was the second regular season game, you sell out the previous game and this one as well. This game the fans coming in knew that the Jacksonville Jaguars would not be up to scratch against the 49ers, who were runners up in the Super Bowl last year.
Jacksonville is a team in transition, owner Shahid Khan has admitted he waited a year too long to try to rebuild this franchise. But the thing about the NFL, because of the draft, free agency, salary cap, you can turn things around in a year.
The Kansas City Chiefs are a prime example of that, last season they only won two games and were the worst team rated in the NFL, this year they're the only undefeated team left in the NFL going into week nine.
Because of those variables you've got to work with you can turn this thing around. An overall it was a great game Wembley - the fans really got into it, and it's more than just a game it was an event.