Case for defence
Kevin Cadle likes San Francisco's 'old-school' approach and thinks they'll beat Jacksonville.
Last Updated: 26/10/13 9:38am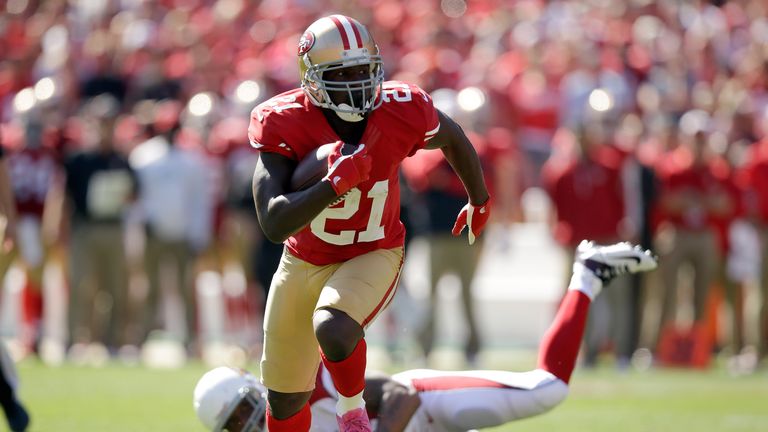 We are back at Wembley for the second time this season on Sunday when Jacksonville Jaguars take on San Francisco 49ers.
The Jaguars are making the first of four planned trips to the London venue over the next four years but arrive in poor form after losing their first seven games of the season.
That contrasts with the 49ers, who lost in the Super Bowl last season and are riding a four-game winning streak.
San Francisco also have good memories of Wembley; they beat Denver Broncos 24-16 on their previous visit in 2010.
Our NFL anchorman Kevin Cadle previews the game and makes his prediction.
San Francisco 49ers @ Jacksonville Jaguars, Wembley, Sky Sports 2HD from 4pm
On paper this looks like a huge mis-match but in the NFL the possibility of an upset always exists - it is an 'any given Sunday' league.
For Jacksonville to earn their first win of the season, a lot of things have to fall into place at the same time.
They will need San Francisco's concentration levels to be a little bit off. If that happens, then it is important that Jaguars quarterback Chad Henne and receiver Justin Blackmon can get their combination going, that would keep them in the ball game.
That's not something you'd put money on, instead it is far more likely that San Francisco make it five wins in a row.
Jim Harbaugh's 49ers have as good a chance of getting back to the Super Bowl as anyone and I've been impressed with the way they reverted to hard-nosed, grind-it-out football after a slow start to the season.
The first three games they were giving up 28 points per game, but in the next three that shrunk to 11 points per game.
Quarterback Colin Kaepernick was trying to force things without having the tools available to him due to injuries to his receivers.
Now they've gone back to their old-school style, using some of the passing game but with a bigger focus on defence and running the ball with Frank Gore - that's what San Francisco are all about.
Kev's call: I've got San Francisco winning by a score of 33-20.