NFL: Kevin Cadle gives the lowdown on the Houston Texans' QB situation
Kevin Cadle says Houston still have a lot of talent but issues at QB are disrupting their season.
Last Updated: 17/10/13 9:52am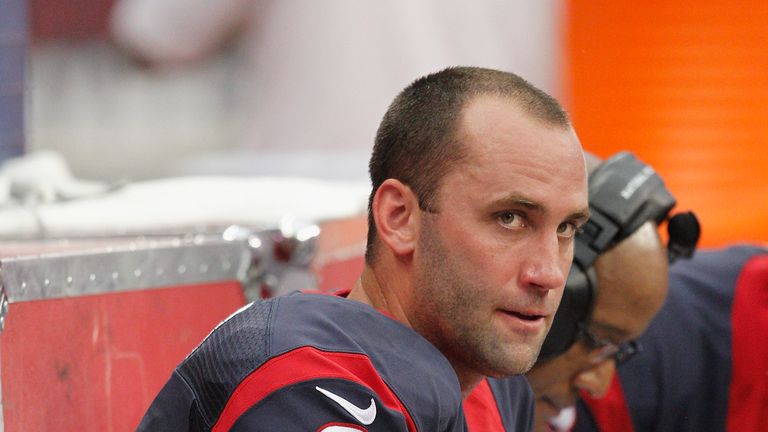 Firstly, the Cincinnati Bengals (4-2) travel to Ford Field to take on the Detroit Lions (4-2) with both teams looking to consolidate their positions at the top of the AFC North and NFC North respectively.
After matters are concluded in Detroit, the in-form Kansas City Chiefs (6-0) take on the struggling Houston Texans (2-4) with Arrowhead Stadium sure to be jumping again.
Things are so bad for the Texans that some of their fans even cheered when quarterback Matt Schaub went down with an injury on Sunday and our NFL expect Kevin Cadle does not expect things to get any easier against Kansas City.
Texans @ Chiefs, Sun, Sky Sports 2 HD, 9pm
There is no question that it's surprising to see the Chiefs still without a loss.
They've been inching by each and every game, but I guess it doesn't matter. At the end of the day it's all about if you win or if you lose.
The Kansas City Chiefs have been a pleasant surprise. That's the thing about the NFL, every year you get three, four, five or six new teams who will make the play-offs that didn't make it in the previous season.
The Chiefs only had two victories last year but they did have six guys who made the Pro Bowl, so they do have talent. It's just a case of getting that talent focused - they have a new coach in Andy Reid this year - and getting these guys on the right track.
Right now they are playing excellent defence. Their offence is very inconsistent, but the defence has been the consistent thing for them.
Meanwhile, the Texans have been struggling. They have won the AFC South for the last two years and they have a lot of talent on both offence and defence. On the defensive side of the ball they are still playing outstandingly.
It is just the quarterback position which has truly let them down. Matt Schaub got injured against the St Louis Rams on Sunday and they brought in TJ Yates as a substitute.
The fans were hollering and screaming like, 'get Schaub out of there', because in each of the last four games he has thrown an interception which has led directly to a touchdown for the other team.
Then Yates comes in as the back-up quarterback - that's another thing about the NFL: everybody loves the back-up quarterback. But Yates does the same thing, throws another pick-six and the fans are ready to throw him out.
Now they're hollering for the third-string quarterback, Case Keenum. So Houston has a lot of talent, but the bottom is starting to fall out of that team.
Bengals @ Lions, Sun, Sky Sports 2 HD, 5.30pm
The Lions are a team which is very strong on offence. Matthew Stafford moves the ball well and Calvin Johnson is probably the best receiver in the NFL.
Running back Reggie Bush has gone over there from Miami and has been a revelation for Detroit. They are finding all types of ways to get him the football and they are so explosive on the offensive end.
In their last outing they managed to beat the Cleveland Browns, who were a team with a lot of 'oomph' in their game. They had won their past three, things were starting to fall into place for their rookie coach and their team after making some trade moves.
So that was a big victory for the Lions heading into this game, although Cleveland are not what they used to be if you look at their teams from the past.