NFL: Sky Sports' Kevin Cadle previews the Green Bay Packers v Baltimore Ravens
Kevin Cadle says Baltimore will have to chase down Aaron Rodgers to beat Green Bay.
By Kevin Cadle
Last Updated: 11/10/13 1:54pm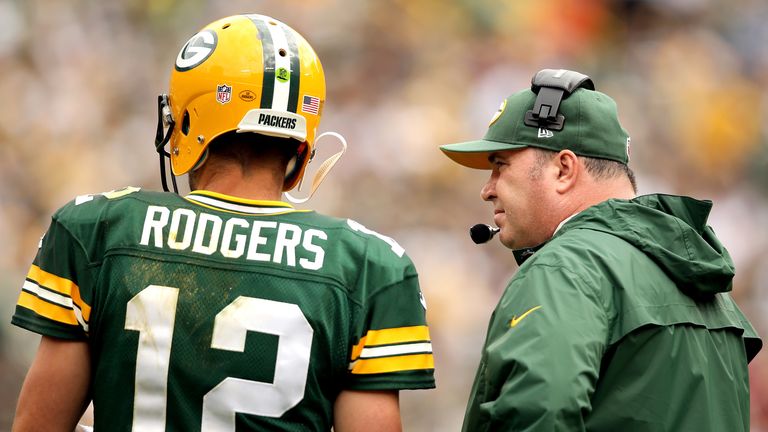 The Packers returned from a bye to beat the Lions and get back to 2-2 for the season, while Baltimore beat Miami last week in our live game to take a 3-2 record to top the AFC North.
Both quarterback Joe Flacco and Aaron Rodgers are Super Bowl MVPs, and it's how the opposition goes about containing them which will decide this game, according to our man Kevin Cadle...
Green Bay Packers @ Baltimore Ravens Sky Sports 2HD 5.30pm
Both these two teams had good wins last week, and they're starting to sort themselves out after indifferent starts, so this is another tough one to call.
Quarterbacks Joe Flacco and Aaron Rodgers have won Super Bowls and been there and done that, and how the defences match up to them will decide this one.
Rodgers is the main man in Green Bay, and is among the best quarterbacks in the league, so you have to try and stop him.
That's the thing you're dealing with is trying to get after Aaron Rodgers, and that's one of the things that the Ravens do - they do go after the quarterback with Elivs Dumervil and Terrell Suggs.
Suggs is just coming off a big game at Miami with three sacks so they're going to go after Aaron Rodgers basically because they know they have to.
But the thing is trying to get that push up the middle, those guys Suggs and Dumervil come from the end but most quarterbacks struggle when you get that push up the middle.
Balitmore has one of the best defensive tackles in the game in Haloti Ngata so if he can wreak some havoc up the middle against that line of the Green Bay Packers, with those guys come around the end they could give Rodgers a long day in the backfield.
I like the Packers offence because of the compliment guys that Aaron Rodgers has out at wide receiver, plus Eddie Lacy is running the football from the half back position and running pretty well as a rookie running back.
They're going to be missing Clay Matthews their star defender though who's going to be out of that game so that would be a worry.
Cadle's Call: I have to say I like the Green Bay Packers. I just think that if you look at a team from a more consistent side, you kind of know what you're going to get from Green Bay but you just don't know what you're going to get from the Baltimore Ravens from week to week.