NFL: Kevin Cadle eager to see manning in action in Denver v Dallas
Kevin Cadle is looking forward to watching Peyton Manning in action when Denver face Dallas.
By Kevin Cadle
Last Updated: 04/10/13 2:43pm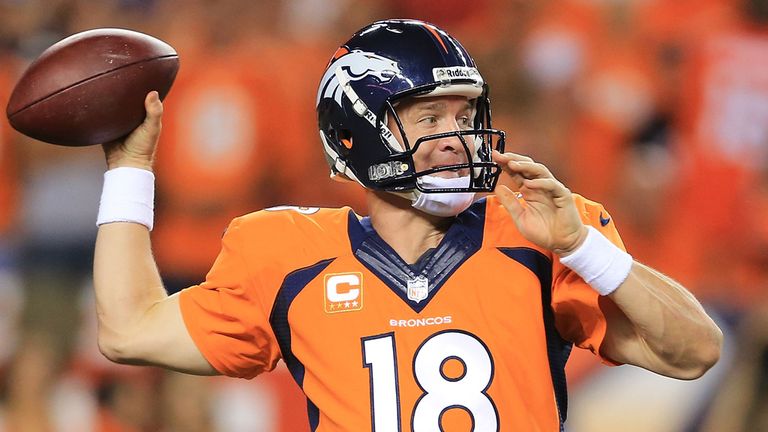 The Cowboys are an even 2-2 but are unbeaten at home, so they should offer up a good test for Peyton Manning's red-hot Denver team.
Speaking of Manning, he has been in the form of his life and is well on the way to another MVP award, and our Kevin Cadle says this game is all about the veteran quarterback.
Denver Broncos @ Dallas Cowboys - Sky Sports 3 HD 9pm
Kev can't wait to get a glimpse of Manning working his magic on Sunday...
When you talk about this game, it all has to be about one man - Peyton Manning.
I don't think anyone studies or is as dedicated to the game as Peyton Manning is and also he's a coach on the field. Most of the quarterbacks in the league they get instructions from the coach and they implement what the coach gives them.
Peyton Manning has a coach on the sideline, but he does more instructing as far as 'this is what I want', 'this is what I see', 'this is what works', 'let me know if there's anything you want to kick in every now and then', but Manning is that general out there that no one else has the capabilities of doing right now.
For me, I love seeing Peyton Manning out there orchestrating his team.
He's on the verge of setting a bunch of different passing records, and he's already set one for the month of September for the most touchdown passes in the first four games to open the season.
He's picking everyone apart right now, but I still think that somewhere along the line they will find someone who can figure them out.
That's why I don't think they'll go undefeated. Most teams now seem scared of going undefeated throughout the regular season and going to the play-offs, I don't know why.
The 1973 Miami Dolphins were 17-0 and the only team ever to complete an undefeated season in National Football League history.
Teams now, when they get to that point of getting ready for the play-offs if they're undefeated they start sitting players because they're worried about them getting hurt going into the play-offs.
So teams seems to be scared of it, I don't know why they're scared of it because it's a chance to make history - lets go for it!
But regardless Denver are still one of the favourites for the Super Bowl.