Kevin Cadle previews the Cowboys' clash with the Chargers
Sky Sports expert Kevin Cadle gives his thoughts on the Cowboys' trip to San Diego.
Last Updated: 26/09/13 7:36pm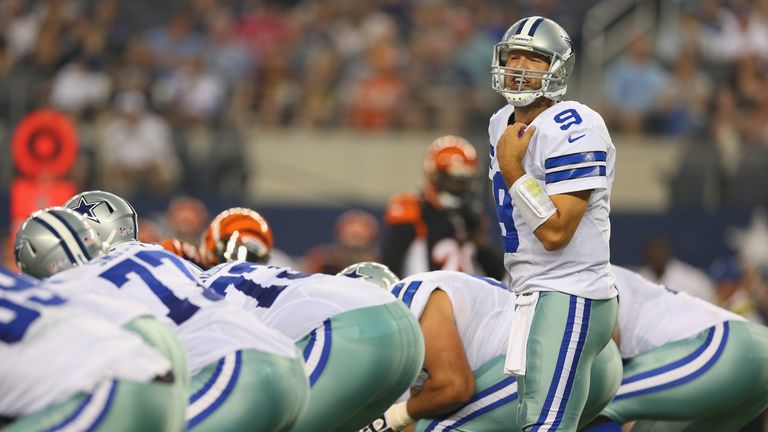 The Cowboys are 2-1 heading into the contest, including a blowout win over the St Louis Rams last time out, while the hosts have lost two of their opening three games.
Ahead of the cross-conference clash, our expert Kevin Cadle gives the lowdown on both teams' seasons so far.
Dallas Cowboys @ San Diego Chargers - Sky Sports 2 HD from 9pm
The Cowboys are coming off a great performance against the St Louis Rams, where DeMarco Murray and Tony Romo both impressed. Murray has rushed for a lot of yards on the last two occasions they've had to play the Rams.
Romo was given a new $60m million contract this summer so it's time for him to live up to all the props he's been given throughout his National Football League career.
But the thing that has been key for this Dallas team so far has been their defence.
They've brought in Monte Kiffin, who used to be the defensive co-ordinator of the Tampa Bay Buccaneers. He is 73 years old - he has been a college assistant coach for the last couple of years with his son at the University of Southern California - but has now come back to the NFL.
Jerry Jones took a chance with a 73-year-old defensive co-ordinator and it has been the best thing that Jerry Jones has done in a long time.
That defence is creating turnovers, creating opportunities so that Murray and Romo have some easy opportunities to put some points on the scoreboard.
San Diego has been up and down for the last two or three years - just as things have been about to look good, an important player goes down with an injury. That's what they are dealing with again now with big problems on the offensive line, but they're trying to pick it up.
Philip Rivers is trying to put the team on the back of the quarterback and trying to carry them through it. Mike McCoy, the new coach of the team, is trying to give them a new breath of fresh air and give them that fight that they need.
So it will be a tough game for the Dallas Cowboys, the San Diego Chargers could just as well be 3-0 instead of 1-2 as they are right now.