Pass masters
Kevin Cadle is expecting Detroit QB Matthew Stafford to enjoy himself against Washington on Sunday.
Last Updated: 19/09/13 11:59am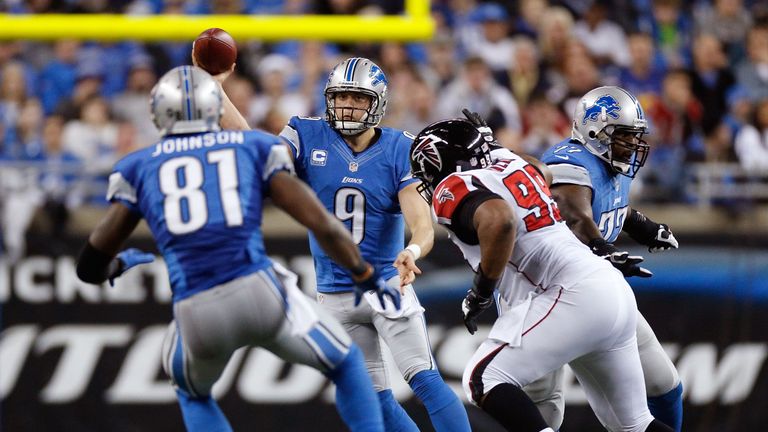 The first part of our live double header on Sunday is Detroit Lions' trip to FedEx Field to take on Washington Redskins.
The Lions are 1-1 after losing a tight game on the road in Arizona in week two, while the Redskins - who made the play-offs last year - are still looking for their first win.
Our NFL anchorman Kevin Cadle previews the game and makes his prediction.
Detroit Lions @ Washington Redskins - Sky Sports 3 HD from 5.30pm
I'm looking forward to this one, particularly the chance to see what Matthew Stafford and Calvin Johnson do against an awful - and that's being generous - Washington defence.
In Stafford and Johnson, Detroit have one of the best quarterback-receiver combinations in the NFL and they are likely to enjoy themselves.
Washington have lots of problems after a 0-2 start. The big one in last week's 38-20 defeat at Green Bay was the number of yards after the catch they conceded.
Packers quarterback Aaron Rodgers had 480 passing yards but around 280 of those came after the catch - even 100 would have been bad.
Detroit's game-plan is clear. Stafford threw more passes last season than any quarterback in NFL history and they will again be taking the aerial route.
I also like the addition of running back Reggie Bush to their offence this season.
Bush is dealing with a knee injury this week and is likely to be a game-time decision. He's a dynamic player and will need to stay fit if Detroit are to challenge for the play-offs.
There are two main things holding back these Lions; penalties and dirty plays. If they can cut down on these - a big if - then this team can go places.
Washington's offence is a different story. They have managed just seven points in the first half and, although quarterback Robert Griffin III and the supporting cast have picked things up after half-time, by then the other team was bored and the game already over.
Kev's call: There are a lot of holes in Washington's defence and their offence has been starting slowly. That is not a formula for success and I expect Detroit to put plenty of points up to earn the road win.