Falcons flying high?
The NFL returns and Kevin Cadle previews Sunday's first game between the Saints and Falcons.
By Kevin Cadle
Last Updated: 09/09/13 12:23am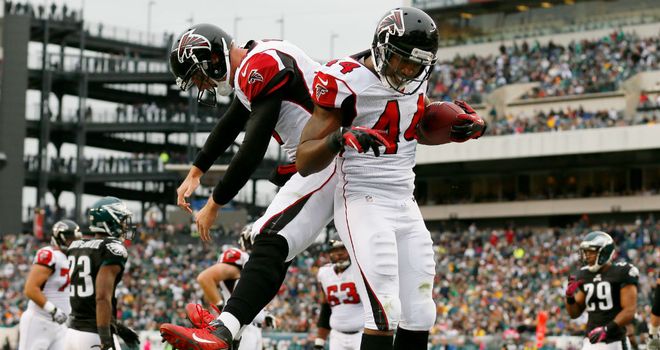 The NFL is back, and to kick-off a season of double-headers we have the Atlanta Falcons taking on the New Orleans Saints in the Big Easy.
Our man Kevin Cadle is back with his big-game previews and here he takes a look at what will decide this game at the Superdome.
Atlanta Falcons @ New Orleans Saints - Sky Sports HD 2 5.30pm
There should be plenty of points in this one. With Atlanta, John Abraham is gone so they have to address that defence.
Offensively they're going to be fine, just look at the receivers, Julio Jones and Roddy White, plus Tony Gonzalez is back and they've added Steven Jackson so they still have some great players on the offensive side.
Let's see how well that defence gels and what they do because that's going to be the key to their season - you've got to stop somebody at least once to win a ball game!
There will be a few teams looking to improve greatly on last season - and one of the teams you can throw into that mix, although their defence is so bad, is the New Orleans Saints.
They brought in Rob Ryan as the defensive coordinator but, you know, the coach is only as good as the players he's got there and the players that they have out there for that defence is kind of lacking for the New Orleans Saints.
They can't stop anyone, it was a record for points and yards given up, and if it wasn't a record it was damn near a record they were that bad.
The Saints are at home, the Saints fans are crazy fans - they love their New Orleans Saints so it's going to be tough.
It's such a hard one to call but you've got to think Atlanta has the edge with those receivers - and although Matt Ryan is not in Drew Brees' league he's not too far behind.
Cadle's Call:
Adding Jackson has to upgrade the Atlanta offence undoubtedly - Jimmy Graham is a stand out for the Saints but if you look at the receivers as a group I think there's a better line-up on the Falcons so I'm going for them to win it in a close one, in a good one to start the Sunday season.