Containing Colin
Kevin Cadle thinks the Falcons will have a tough task trying to stop Colin Kaepernick and the 49ers.
Last Updated: 22/01/13 9:17am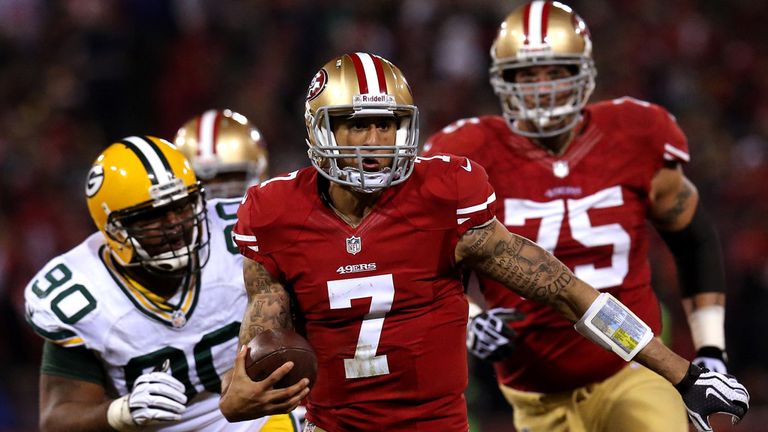 The NFL's Conference Championship Sunday kicks off with the Atlanta Falcons and San Francisco 49ers battling it out for the NFC title.
Although they are at home and had a better regular-season record, the Falcons go into the clash as the underdogs against the Colin Kapernick-led 49ers. Kevin Cadle gives us the lowdown.
San Francisco 49ers @ Atlanta Falcons, Sun 7.30pm, Sky Sports 2HD
The Falcons are the No 1 seed in the NFC and have home-field advantage but most people are predicting a win for the 49ers.
A lot of those predictions are based on last week's performances from both teams. San Francisco was comprehensive in their win over the Green Bay Packers and Atlanta - a lot of people said they were lucky to beat the Seattle Seahawks but you make your own luck.
I think people think that San Francisco has more maturity on both the offensive and defensive sides of the ball. Quarterback Colin Kaepernick ran over Green Bay and we have already seen what Russell Wilson was able to do against Atlanta. Everybody is thinking that Kaepernick is a better quarterback than Russell Wilson is at this stage so his production could be even higher.
Last week I think that San Francisco was solid on both the offensive and defensive sides of the ball but I don't think Atlanta was solid on both sides of the ball. That's why people still aren't sold on Atlanta, even though they are at home.
Kaepernick can definitely be stopped, though. It's a case of the Atlanta players staying true to their position and doing their job. If they try and do more than their job or lose focus on where they are supposed to be at the appropriate time, then they are going to create opportunities for a guy like Kaepernick.
Kaepernick's rushing ability was impressive last week but in the past we've Michael Vick take off and how long did he last? This season we've seen Robert Griffin III taking off and how long has he lasted?
Hit the deck
But I think the one thing that Colin Kaepernick and Russell Wilson understand is that they need to hit the deck. That might be the difference compared to RG3 and Michael Vick, who didn't understand when to hit the deck.
It is still to be seen just how good Kaepernick can be. He set the record for rushing yards by a quarterback in a single game against Green Bay and he's getting better and the team is getting better and more confident. I don't think there is a person out there now that doubts the move Jim Harbaugh made to go with Kaepernick over Alex Smith.
For the Falcons, it helps that they saw a similar quarterback in Wilson last week. But the 49ers are a little bit different - I think Kaepernick has a better receiving corps than they have in Seattle. That makes a difference and will create opportunities because the personnel that he's throwing the ball to are far superior to who Russell Wilson was throwing the ball to.
Last week Atlanta won their first play-off game since Matt Ryan has been their quarterback. The first win always gives you the opportunity to exhale, as long as you don't exhale too much. They needed to get that gorilla off their back so now they can go out there to perform and say, 'let's just concentrate on the task at hand'. Now the concentration can be on just winning the ball game.
It's going to be tough for Ryan against the 49ers defence because they have a better pass rush than Seattle, who were hurt by the loss of Chris Clemons. The Seahawks lost their leading pass rusher in that game with that terrible field at Washington - so Washington cost us RG3 and Clemons with the conditions on the field. But from the 49ers I think there will be a better pass rush and a better front seven.
Kev's Call... I'm going with San Francisco and I hope that San Francisco wins.