Kevin Cadle previews Sunday's games and sees wins for Baltimore and Seattle
Kevin Cadle calls an emotional tie in Baltimore and a battle between two rookies in Washington.
Last Updated: 04/01/13 6:40pm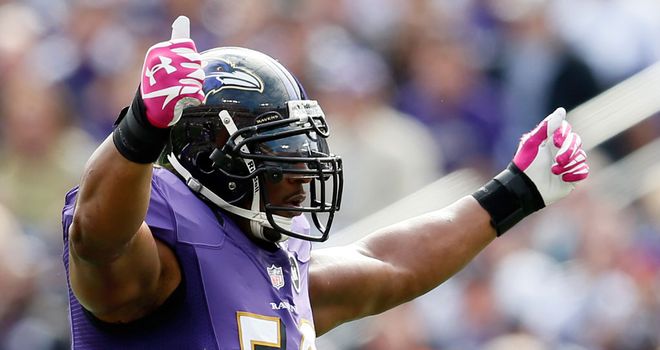 It'll be an emotional tie up in Baltimore with Ray Lewis retiring and Colts coach Chuck Pagano returning into his former team, but the game will be settled elsewhere on the field.
Indianapolis Colts (11-5) @ Baltimore Ravens (10-6) Sun, 5.30pm, Sky Sports 1HD
This game has a lot in it - we've got Ray Lewis on his last game at home and Chuck Pagano coming back to Baltimore and off of his illness so it's going to be an emotional game on both sides.
On the field it's going to be a case of can Indianapolis stop Ray Rice having a big impact? Then you've got a team of veterans on defence going up against a rookie in Andrew Luck.
The thing for me with Luck is he's had a tremendous rookie year but he makes a lot of mistakes and turns the ball over a lot and with a team like the Ravens with players like Ed Reed he just won't be able to do that and help Indy to win it.
Lewis will be there too, but I just don't know how much Ray Lewis is going to be able to give them on the field though - he hasn't be out there for a couple of months so he's out of game shape, and when he was playing he was a step slow even though he led the attack.
Mentally it's going to be one of those game where Lewis gives you that push, but with him if you're a step slow, you're a step slow, simple as that. Defensively I think he'll help but with a mental standpoint not a physical standpoint.
Kev's Call: Baltimore have been great at home and with Ray Lewis cheering them on they'll be too much for this young Indy team.
Seattle Seahawks (11-5) @ Washington Redskins (10-6) Sun, 9pm, Sky Sports 1HD
The difference in this ball game is that Seattle defensively are far superior, it's not even close, they're a far better defence than Washington. RGIII will be going up against a very talented defence, a much better one than what Russell Wilson will be going up against.
These two teams are the top two teams for running the ball on first and second down, both teams like to run the ball and you've got Alfred Morris and Marshawn Lynch out there moving the chains and keeping the pressure off the quarterback.
So it'll be a case of which defence gives them the most leeway and then lets the quarterback relax into the game more.
RGII has the knee problem which people say will stop him running the ball as well, but it depends on what you think is running the ball well - he had 63 yards and a touchdown last week with the knee brace on which I'd say probably 31 out of 32 quarterbacks would take any day.
Now he's got another week to clear it up. With that brace on it's going to force him to have a bit of a limp automatically anyway, so it's just him having to adjust to that but I've got no doubt if opportunities create themself he'll run the football.
Kev's Call: I have to like Seattle, I would prefer Washington but I just think Seattle because offensively there's not a lot in it between these two quarterbacks and offences, but there is a lot in it in terms of the defences so I just think that will give it to Seattle.