All about AP
Kevin Cadle thinks Adrian Peterson should be given the MVP award if the Vikings make the play-offs.
Last Updated: 28/12/12 6:59pm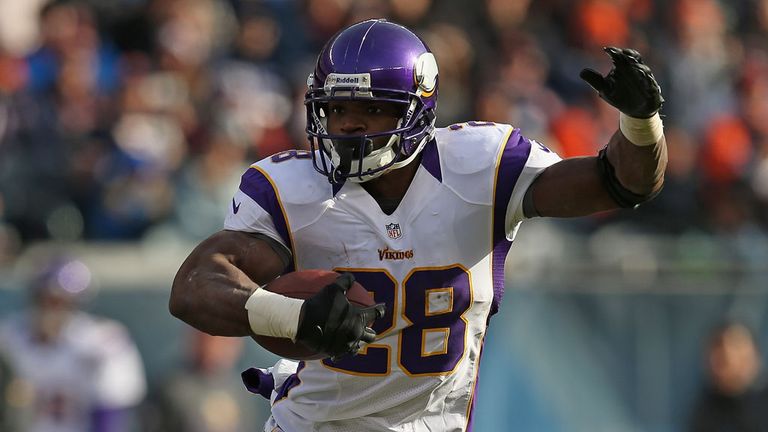 Sky Sports' NFL double-header on Sunday concludes with the Minnesota Vikings' clash with the Green Bay Packers at Mall of America Field.
Minnesota know that a win will be good enough to secure a play-off place but MVP candidate Adrian Peterson and the rest of the Vikings will have it tough against a Packers outfit going for a first-round bye. Our NFL expert Kevin Cadle gives his view.
Green Bay Packers (11-4) @ Minnesota Vikings (9-6), Sun 9.15pm, Sky Sports 2HD
Minnesota know that if they win there are in the play-offs but it's an important game for Green Bay as well, because they are chasing the second seed and a first-round bye in the post-season.
If the Packers win they get a week off and give Charles Woodson one more week to get himself together and to remedy all the other injury woes they've been dealing with, it will be a big boost. This game is just as important for Green Bay as it is for Minnesota.
There are other games going on earlier in the day which could make it easier for Minnesota but they have to take care of business regardless of what happens in Chi-town or with the New York Giants. The picture doesn't become completely clear until the last game of the season between Washington and the Dallas Cowboys on Sunday night.
The Vikings were not expected to make the play-offs at the start of the season. The reason they have done so well is Adrian Peterson. It starts with him and it ends with him. He's carried the team offensively because they've lost Percy Harvin, who is the second best player on the team. Their quarterback Christian Ponder is not up to it, he has had six separate games this year where he has passed for fewer than 150 yards.
So basically it's all about Adrian Peterson. He has every defence stacked up against him, ready for him to come, and he is still being productive. That's why, for me, if the Vikings make the play-offs he has to win the MVP award. If they don't make the play-offs I can understand but if they do, it's all about AP.
It's not about Peyton Manning or Tom Brady, they are just doing what they did before. Peterson has taken a team that was predicted by everybody to come in last place in the NFC North and brought them to the brink of the play-offs.
In the last game against the Packers he ran for over 200 yards and there has only been two players - OJ Simpson and Jamal Anderson - who have run for over 200 yards against the same team twice in one season. Can he do it again?
He's a one-man band, it's basically one against 11. He needs 208 more rushing yards to break Eric Dickerson's single-season record and over 100 to get 2,000 rushing yards for the season. I hope he gets there.
If the Vikings can get on the scoreboard early it allows their defence to take over and that has been the thing that has carried them to their victories. They have to get an early lead, allow their defence to do their thing and use Peterson to churn some yards out.
Superman
He's dealing with an abdominal strain so he's out there trying to be Superman as well. It's going to be Peterson left, Peterson right, Peterson up the middle. There's no fooling going on there apart from which way he is going to run with it.
As far as the Packers go, they have already won the division and I would have them down as one of the favourites to win the Super Bowl. Last season they went 15-1 and didn't even win a play-off game, I think this year they will think they have had a better approach because they look like one of the teams that are getting hot at the end of the season.
They've gotten better towards the end but also guys are starting to slowly return from injury. Clay Matthews is back out there and almost at full tilt and if they win this ball game Charles Woodson should be back at full health after another two weeks.
I think the big thing for them is Ryan Grant - if he can duplicate what he did last week or get close to it, then they now have a running game. If you give that offence a running game, you are looking at a whole different dimension. If Ryan Grant can hold up and give them even a semblance of a running game then I think the Packers are going to be really tough to beat.
Kev's Call... It's a toss up as far as this game goes. I hope Minnesota wins, that's my prediction. But for them to be successful Peterson has to have a big game.
Extra word: There is a big showdown for the NFC East title on Sunday night between the Washington Redskins and Dallas Cowboys. Whoever wins takes the division and qualifies for the play-offs. You could call Washington young and dumb and that's really what they need to be at this stage, because they won't realise the magnitude of what it's all about.
For the Dallas Cowboys - they have been at the gate so many times and failed to open it. I just don't have faith in the Dallas Cowboys, I would be happy to see either team win but I have to go with the Skins because I just don't trust the Cowboys.