Too little, too late?
Kevin Cadle thinks Lovie Smith's job may be under threat even if the Bears win on Sunday.
Last Updated: 28/12/12 6:24pm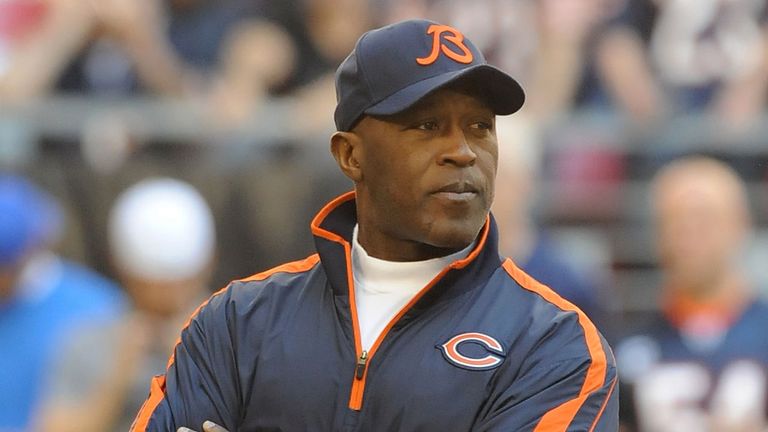 The first contest in Sky Sports' NFL double-header on Sunday sees the Chicago Bears travel to Ford Field to take on the Detroit Lions.
The Bears need to win to have any chance of making the play-offs but even a victory may not be enough for them depending on the Minnesota Vikings' result later on Sunday. Our NFL Expert Kevin Cadle analyses the situation and also has an interesting take on Calvin Johnson's record-breaking season.
Chicago Bears (9-6) @ Detroit Lions (4-11), Sun 5.30pm, Sky Sports 2HD
Chicago needs to win but that might not be enough. They could be one of those teams that go down in NFL history who have won 10 games but did not make the play-offs.
Detroit is going to be a challenge for them - just because it is a division game and Detroit will be hoping to salvage something from the season. They made the play-offs last season but all the turmoil and ruckus that went with them in the off-season seems to have had an effect.
For Detroit it's been a seriously disappointing season and, for Chicago, it could end in disappointment as well even if they win the ball game.
The Bears lost five of six before they bounced back against Arizona last week. They needed that kind of game to define themselves. I think that might have been one of those games which helped them to find themselves.
It is much better to win than it is to lose, especially as before then some games had gotten away from them with Jay Cutler going down and the back-up quarterbacks not really coming in and making things happen. It's the NFL, you take the wins whenever you can get them.
People looked at it and said, 'it was an easy game', but there are no easy games. It was a team that they had the capability of beating and they went out there and beat them - they've had a problem doing that recently.
Chicago made a really strong start to the season but they have slowed down because you can't depend on the defence scoring points for you. You can depend on solid defence but you can't depend on getting turnovers and either taking those directly back for points or putting the team in position to get the points.
When they started hitting that losing streak the defence wasn't getting turnovers and it showed that the offence - even though they've got Brandon Marshall, Matt Forte and Michael Bush back there - didn't have enough to sustain drives and put points on the board.
After eight games they were averaging 29 points a game but you had to attribute two of those touchdowns to the defence, so they were basically averaging 15 points a game. It was false money we were looking at when we were looking at the Bears earlier in the season.
Lovie future
If they don't make the play-offs it becomes a tough one regarding the future of Bears head coach Lovie Smith. Do you fire a guy who has just won 10 games? It will be interesting to see how they go about dealing with that, but I have to say there is a possibility he will get fired because at the end of the day they didn't make the play-offs.
As I mentioned earlier, the Lions have struggled and it's because of all of the problems they had in the off-season. I don't know how many guys they had arrested, but if you don't have discipline in your organisation then you can't be a successful team. Teams that win championships are teams that have discipline, the Lions' discipline just eroded.
There is another potential situation with their head coach Jim Schwartz, they might look at replacing him. This will be the third out of four seasons that he's had a losing record. You look at all those problems - is it the coach's problem or the general manager's problem? Who do we point the finger at? Both of them would probably point the finger at the other one.
So this is one of those games where Detroit could win and their coach could go and Chicago could win and their coach could go as well. This is not a game where I'd like to be a coach of either team because they might not have a job come Monday morning.
We will also be watching to see if Detroit receiver Calvin Johnson, who broke the single-season receiving record last week, will now get his 2,000 receiving yards - he doesn't have a whole lot to go. I think he will probably have a good opportunity to get it because Matthew Stafford will put the ball up for him.
Now this is just my personal opinion but I'm not sure how you rank Megatron's achievement because he's done it on a losing team. Somebody has to be the best player on a bad team!
He broke Jerry Rice's record but Jerry was on a winning team - they were vying for Super Bowls and the Lions are vying for the last place in the division. It's an accomplishment, you have to give him that, but is he up there with the greats? Put him on a winning team, make it happen on a team where people care about getting the game over with and heading home with the victory and see then.
For me you have to put an asterisk by it, as they say. It's a great accomplishment and records are meant to be broken, but not that way.
Kev's Call... I'm going to go with the Bears. They know if they don't win it's over with, at least if they win they can sit at home and hope that Minnesota loses. But they have to do their thing first.