Spread the love
Kevin Cadle thinks the Bears need to to make more things happen on offence to overcome the Packers.
Last Updated: 15/12/12 1:18pm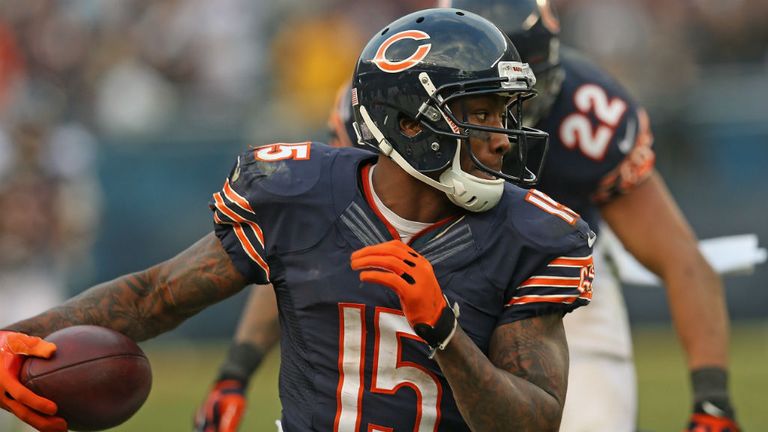 The first of Sky Sports' NFL double-header on Sunday sees the Green Bay Packers take on their bitter rivals the Chicago Bears at Soldier Field.
The Packers will capture the NFC North title and a play-off berth if they win but our NFL expert Kevin Cadle thinks it will be a close-run thing against a Bears team who are fighting for their own play-off chances.
Green Bay Packers (9-4) @ Chicago Bears (8-5), Sun 5.30pm, Sky Sports 2HD
This is a hugely important battle in the race for the NFC North and it looks like whoever wins is going to be the team that is in position to win that division, and the division winner automatically makes the play-offs.
But I think it's a more important game for the Chicago Bears. They have to find a way to get back to winning ways. They have been struggling as of late and I think their coach Lovie Smith, if they don't make the play-offs, could be in trouble.
The thing that had been saving them was their defence, who made plays, got turnovers and scored points. During this little recent run where they have lost four out of five - their defence hasn't really been able to get turnovers and turn them into points.
Now they are dependent solely on their offence to make it happen and right now, play calling or something is wrong and it is not allowing them to put more points on the board from a offensive point of view.
I think one thing they have to do is spread the ball around, Brandon Marshall has over five times the next guy in terms of receiving yards on the season. That means they are not really spreading the ball around, they are just depending on one guy: Brandon Marshall.
He is a competent player but you have other players on that team and you need to get the ball in their hands and use their abilities as well.
Their running back Matt Forte has to get out there and earn his money, he is one of those that falls into the category of getting a new contract and all of a sudden is not as good. I think they need to get a little more from him if they are going to make it happen.
Grudge match
When Lovie Smith got the job at the press conference he said, 'we are going to beat the Packers', and of late they haven't been able to do that. That's the thing they need to get in order.
As for the Packers, if they win they win the division, it's as simple as that. If they get the win they get a two-game lead in the division with two games left.
They haven't been incredible because they've been dealing with a lot of injuries. It is what happens when you start taking your top players away like Charles Woodson - a future Hall of Famer - and Clay Mathews, who have both been out for a big part of the season.
On the offensive side they are still having problems with the receivers. They have so many problems that right now the most sacked quarterback in the NFL is Aaron Rodgers but he seems to keep on ticking.
A lot of things are happening there but they continue to find a way to win the ball game, that's what good teams do. Now some guys are starting to come off the injury list, the more of those guys that they can get playing the better opportunity they will have to get things moving.
You've got to fear them because they've been able to do it without those guys and you've got to fear them because they have Aaron Rodgers at quarterback.
Kev's Call... This is one of those close ones but I am going with the home side.