Where's the love?
Kevin Cadle is expecting another bone-crunching battle as the Ravens and Steelers clash again.
Last Updated: 02/12/12 2:03pm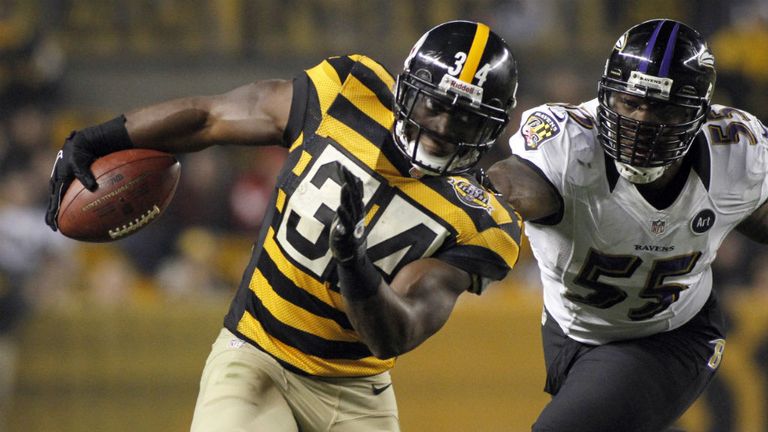 It's one of the fiercest rivalries in the NFL, and it's live on Sky Sports as the Steelers and the Ravens clash again just three weeks after their last dust-up.
Both teams are missing key players but the Ravens can clinch a play-off spot with a win and put their hated AFC North rivals in big trouble if they can continue their home dominance - Big Kev calls it.
Pittsburgh Steelers (6-5) @ Baltimore Ravens (9-2), live on Sky Sports 2 HD, Sunday 9pm
This should be another hot-blodded affair between these two teams who basically have no love for each other at all.
It's kind of interesting that we have the two main men from each team missing in Ray Lewis for the Raens and Steelers quarterback Ben Roethlisberger - but the show goes on and as they always say in the NFL it's next man up.
But I think it's worse for the Steelers as they're missing a lot not having Ben Roethlisberger there because neither Charlie Batch nor Byron leftwich have come in and done anything at quarterback.
Baltimore are banged on defence up but I look at two very important categories and they're seventh in points opponents are allowed on the scoreboard and they're first in the red zone.
They are two major stats right there and very important categories that they seem to be pretty successful with, so they've got a serious bend but don't break mentality with that defence.
Baltimore will put it all into this game to get into the play-offs, but they'll mainly be putting everything into it because of who they're playing against - these two teams don't like each other.
For the Steelers it's important because a loss for them and their play-off chances start getting less and less and they might have to win out from there and it could be curtains.
Who knows what's going to happen with Big Ben, we keep hearing he may come back but he had a pretty serious injury and there may come a point where they don't see light at the end of the rainbow and shut him down and see what they can do for the rest of the season with Charlie batch, but a loss at Baltimore could put a nail in their coffin.
Three weeks ago they went against Byron Leftwich, and this week they're going against Charlie Batch, and you have to always remember in these situations - he's their third string quarterback, and he's a third stringer for a reason!
The Ravens are very comfortable at home, just what Dorothy said: "There's no place like home" and they're a team who are very comfortable at home.
That's another reason they won't be able to take the pedal off the metal because they really are an inconsistent team on the road and you look at the play-offs and think they need to be at home. They need this game to keep pace with Houston because when it comes down to it they need that home field advantage.
Kev's Call:
Baltimore - it's going to be hard fought, it's going to be low scoring, but I just think Baltimore have the edge offensively with the quarterback position, which is the most important position on the offensive side of the ball, that gives them the advantage.