NFL Preview: Kevin Cadle previews live Sky Sports game between Chicago Bears and Seattle Seahawks
Seattle's Russell Wilson has a huge task taking on the Bears defence in Chicago, says Kevin Cadle.
Last Updated: 02/12/12 12:44pm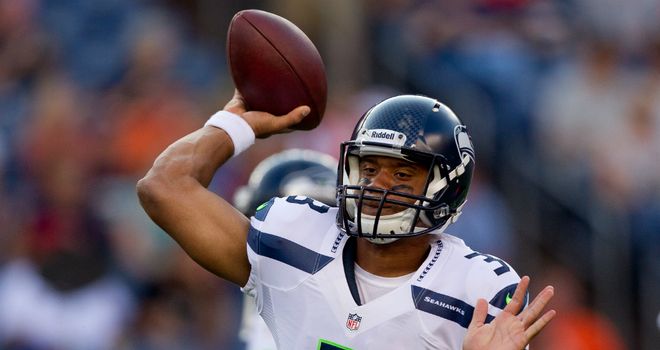 While the Bears need to keep their momentum going to fend off Green Bay in the NFC North, Seattle are in danger of slipping out the NFC wildcard picture if they lose, our Kevin Cadle marks your card.
Seattle Seahawks (6-5) @ Chicago Bears (8-3) - live on Sky Sports 2 HD, Sunday 5.30pm
This one is kind of a head's up game - the Bears are playing better now that Jay Cutler is back at quarterback but Seattle have a pretty good defence so it's going to be a close encounter there.
Chicago have been steady on that side of the ball and seem to be in form at all times, but I think if they're going to do something they need to be more productive on offence.
I've been looking at the stats and Cutler has five games where he hasn't even passed for 200 yards, so they're going to need some better production from him if they want to go deep into the play-offs.
It definitely can happen though, as Chicago showed when they got to the Super Bowl with Rex Grossman, and defence is the key to the path to the big game, but you also need to have a lot of things happen on the other side of the ball as well.
And the big thing for them is to get Matt Forte healthy as he's such a big part of everything good they do offensively.
It'll also be an interesting thing to watch rookie quarterback Russell Wilson play for Seattle, he loves it at home with 11 touchdowns and no interceptions, but on the road it's a completely different story and that's the puzzle he has to solve.
He has to get it done on the road against a team in Chicago who are arguably playing the best defence right now in the entire NFL.
If they lose this it becomes a very long shot to make the play-offs, any game they lose from here on out it makes it a long shot. Somebody's going to miss out but when it comes to the play-offs I think the wild cards are something that's going to go right down to the last weekend of the regular season.
Kev's Call:
I've got to go with the Bears as the home team going up against a rookie quarterback. I'd like to see Seattle get it but I just think the Bears with the veterans they have on that team, especially on defence, will get it done.