Luck holds true
Kevin Cadle previews the second part of Sunday's live double header on Sky Sports 2HD
Last Updated: 15/11/12 8:44pm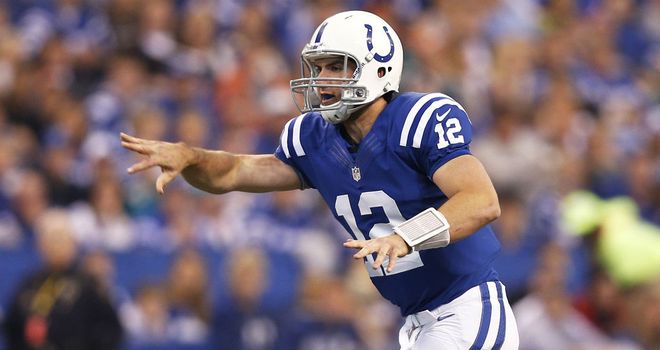 Rookie quarterback Andrew Luck takes his Indianapolis Colts to Gillette Stadium for a showdown with veteran Tom Brady and the New England Patriots. Kevin Cadle doesn't see any home comforts in this one.
Indianapolis Colts (6-3) v New England Patriots (6-3), Sun, 9.25pm, Sky Sports 2HD
I'm looking forward to this ball game, both teams are 6-3 coming in and have built up a good rivalry in recent years.
It is no longer Tom Brady versus Peyton Manning at quarterback, instead Brady is up against the number one pick in the draft from earlier this year, Andrew Luck.
Luck is on course to surpass everything four-time league MVP Manning - now in Denver after being released by the Colts last March - achieved as a rookie.
The Stanford graduate already has four 300-yard passing games, including a rookie record 433 in the 23-20 win over the Miami Dolphins in week nine.
Luck's numbers are clearly superior to those Manning had in his first year as a pro, although it is worth adding that he also has a better supporting cast than was the case back in 1998 when the Colts finished at 3-13.
Since head coach Chuck Pagano left the team to start his treatment for leukaemia, Indianapolis have won five out of six including their last four.
Luck has shown he can lead a team down the field and score with the game on the line in the waning minutes and, looking at the Patriots' defence, I can see him doing it again late on if the Colts can stay close.
New England have the NFL's top-ranked offence and are top of the AFC East at 6-3 but, looking at their results, they could just as easily by 3-6.
They are once again being let down by their pass defence. You think 'when are they ever going to fix it?' Head coach Bill Belichick is supposed to be this defensive genius but he still hasn't managed to sort it out.
We've got former Patriot Troy Brown on the show this week, maybe he'll be able to tell us why...
Kev's call: I'm going with an upset win for the Indianapolis Colts at Foxboro, Luck can get the job done for the visitors in the fourth quarter.