Giant task
Kevin Cadle previews the second game of Sunday's NFL double header on Sky Sports 2HD
Last Updated: 02/11/12 9:29am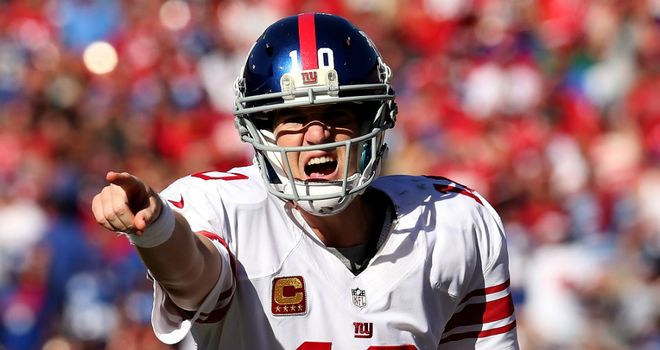 Ben Roethlisberger brings his Pittsburgh Steelers to New York to take on Eli Manning and the Giants. Here's how our man Kevin Cadle sees it.
Pittsburgh Steelers (4-3) v New York Giants (6-2), Sun 9.15pm, Sky Sports HD2
With the aftermath of Hurricane Sandy to deal with in New York at the moment, it is going to be all about focus for the players - not just on the ball game but on what needs to be done in the area and what needs to be taken care of.
The two quarterbacks on show have won four of the last seven Super Bowls, you have to like what they bring to the party and how they lead their offences.
Under new offensive co-ordinator Todd Haley, Pittsburgh lead the league with 34 minutes of possession per game. Their running game and short passing has become very effective and it means Roethlisberger is not getting beat up as much as in the past.
But that might change on Sunday as the Giants have picked it up defensively in the last month, they are getting after the quarterback and making things happen.
Offensively the Giants are still up-and-down. While they are always capable of coming up with a big play, one of the more consistent players has been the kicker Lawrence Tynes.
This guy from Scotland - Tynes was born in Greenock - has really come through for them, his boot has been very influential in getting them to six wins already.
The result will come down to who has last possession. If Manning has it then it is going to be a tough one for the Pittsburgh defence, because coming up big in the fourth quarter is what he does.
Roethlisberger does the same thing, so I'm not betting on the defence against either one of these quarterbacks if they have the ball and need to score on the last series of the ball game.
Kev's call: I'm going for the New York Giants because they have come alive in recent weeks. They have the better running game and team overall and are more likely to come up with the big plays when needed.