Who's the man?
Kevin Cadle says the Cowboys need a stronger on-field leader ahead of their clash with the Giants.
Last Updated: 25/10/12 5:37pm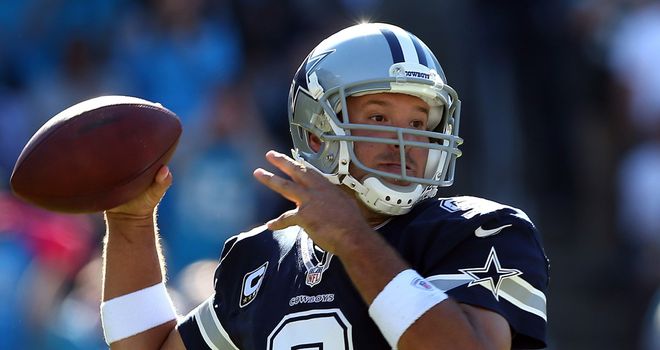 After the Wembley showpiece ends on Sunday, Sky Sports viewers will be treated to a divisional clash between the New York Giants and Dallas Cowboys.
The NFC East contests are always some of the most-anticipated of the NFL season, and our expert Kevin Cadle says the onus will be firmly on the hosts at
New York Giants (5-2) @ Dallas Cowboys (3-3), Sun 8.30pm, live on Sky Sports 2HD
With the Cowboys, you just don't know which Dallas team is going to show up. They offer a lot but they deliver little.
Dallas don't just need to make a move in the NFC East, Dallas better make one.
If New York go 6-2 and Dallas are given their fourth loss it will be too much to overcome. If you can stay in the fight for the division it puts you in the fight for a wildcard in the play-offs. It's a must-win game for the Dallas Cowboys, they have to get it done.
Dallas are underachieving again and for me it's because they don't have a man. What I mean by 'a man' is the man who is the leader of the team, who is going to take everyone by the scruff of the neck and say, 'this is how we're going to get it done'.
The Cowboys just don't have that, there is no leadership. DeMarcus Ware is a very talented player, Tony Romo is a very talented player, but they need somebody who is the man out there because there are other organisations that do.
You need somebody out there on the field. Jason Garrett is finding his way as a coach but if his players don't perform and give him an opportunity you are going to have some problems. I think that is the thing with the Dallas Cowboys. As I said, you don't know what you're going to get from game to game.
Linebacker Sean Lee has been ruled out for the rest of the season and he was their leading tackler. He was the guy that was going to search out the ball out and that is hard to replace. They are losing a big talent there.
Like I always say - there is a reason one guy is second string and one guy is first string. You have a second-teamer who will be replacing him and his production won't be the same. Any time you lose a starter who is playing at a high level it becomes a problem.
Combination
As for the Giants, the combination of Eli Manning and Victor Cruz continues to excel. I'm sure people watch the games just from a fantasy standpoint and think, 'Victor Cruz isn't doing it'. But then he just explodes.
They are still waiting on Hakeem Nicks to get off the injury list, he will come in and then he'll be injured the following week. He's the guy that completes that offence so once they get him back in there properly they are going to be extremely tough to handle offensively.
Right now their offence is clicking, they must like what they see with running back Ahmad Bradshaw and the back-ups. It is a nice complement to what they do with the passing offence.
Defensively, they are now starting to get after the quarterback again. They weren't doing it earlier in the season but now they are doing it again and that is making a big difference and has taken a lot of pressure off Eli.
But Eli has now had 23 fourth-quarter comebacks in his career. The defence knows that if they do their job, they have Eli there and have a chance of winning the ball game down the stretch.
The Cowboys beat the Giants on the opening night of the season but I don't think it has any relevance because they have both taken different paths since then. The Cowboys got up for the big game and rose to the occasion but the Giants had a lot of injury problems coming into that ball game.
No doubt the New York Giants want some payback but as far as that game being relevant? I don't think so.
Kev's Call... I like the New York Giants because it's one consistent team against one that lacks consistency.