Offence to shine
Kevin Cadle believes the Patriots' offence will prove too hot to handle for the Jets on Sunday.
Last Updated: 18/10/12 4:15pm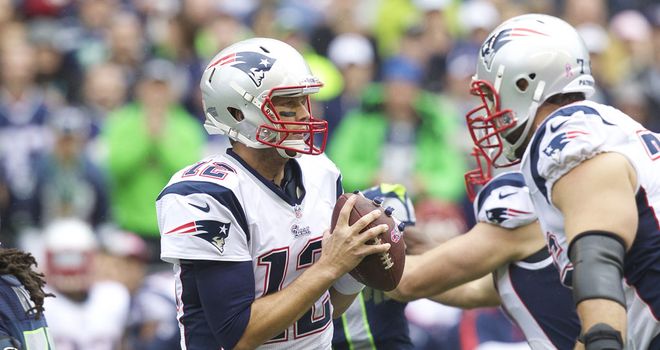 The Sunday of Sunday's live Sky Sports NFL double-header sees the New York Jets take on the free-scoring New England Patriots at Gillette Stadium.
The Patriots are the NFL's leaders in points per game and yards per game, although Bill Belichick's side are only 3-3 this season - a record matched by their AFC East rivals
New York Jets (3-3) @ New England Patriots (3-3), Sun 9.15pm, live on Sky Sports 3HD
Everybody in the AFC East is tied at 3-3.
The cream of the AFC East is undoubtedly is the New England Patriots. I doubt very few people would bet against New England being the team that out of all those 3-3 teams they are the ones that survives and makes it to the play-offs.
Of the three loses, two of them were to NFC West teams, losing at home to Arizona and losing last week at Seattle.
The problem against Seattle is they were not able to run the ball. One of the things they've been able to do throughout the year is compliment Tom Brady with being able to run the ball.
That's one of the things they'll look to be able to do a little bit against the Jets - try to run the football. We know Brady will be able to pass, he'll be able to find all the opportunities they want in the passing game.
Negative
With the Jets you talk about their passing. Last week Mark Sanchez passed for 82 yards. Not that that was a negative on Sanchez. That's all he needed to do. He had two touchdown passes in that. People continue to criticise Sanchez, but you've got to ask, 'who's he throwing the ball to?'.
They were able to run the ball extremely well with Shonn Greene. A whole lot of quarterbacks pass for more yards, but you look at their touchdown totals and they don't get the two or three touchdown passes.
I don't think Shonn Greene is going to be as spectacular like he was last weekend. So now it falls back on the quarterback situation of Mark Sanchez and Tim Tebow. What are they going to do at quarterback?
You compare their quarterback situation to the quarterback on the other side I don't think there's a comparison.
Kev's Call... Patriots win. Even if this game was in New York I'd still go with the Patriots. With the offence that the Patriots have I think they are going to put up 25-plus points and for the Jets it's a very odd day if they put up 25-plus points.