Back on track
Kevin Cadle is backing the Houston Texans to return to winning ways against the injury-hit Ravens.
Last Updated: 18/10/12 4:20pm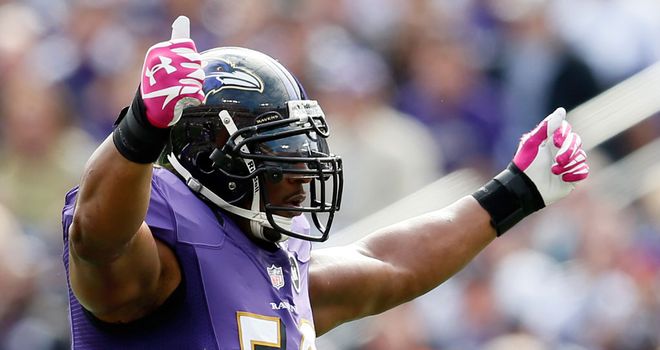 The first of Sunday's live Sky Sports NFL double-header sees the Baltimore Ravens travel to Reliant Stadium to take on the Houston Texans.
The Ravens head into the contest on the back of four straight victories while the Texans suffered their first defeat of the campaign in last weekend's 42-24 loss to Green Bay.
Baltimore Ravens (5-1) @ Houston Texans (5-1), Sun 5.30pm, live on Sky Sports 3HD
Well Houston is just coming off getting their butt kicked by Green Bay and Aaron Rogers with those six touchdown tosses. I think they'll be looking to recover, but then you flip onto the other side and you look at Baltimore from a defensive point of view.
Linebacker Terrell Suggs is already out for most of the season with his Achilles injury. Haloti Ngata is dealing with problems (MCL sprain) so that's their two best linemen in question. Their top linebacker and leading tackler Ray Lewis is out for the season. Their best cornerback Lardarius Webb is out for the season.
Their defence was already leaking yards. Not so much as far as points go, but teams were able to get up and down the field on them. I'm looking for the Houston Texans to be able to rebound from the performance they had against the Green Bay Packers.
We're not just talking about injuries, we're talking about quality injuries. Your best nose tackle (Ma'ake Kemoeatu) - that's the best guy on the ground. Your best linebacker (Lewis) - that's the guy right behind him. You best cornerback (Webb), that's the guy who defends against the pass.
Replacements
That's a lot to have to give up and replace in possibly one game. Ngata might play, he might not play, but that's a lot to have to replace, mentally and physically in a short space of time. You've still got Ed Reed out there at safety.
The Texans run the ball extremely well. You've got two running backs in Arian Foster and Ben Tate - both of them do a very good job on the ground. Their defence does come up with turnovers, making it available for them and putting teams in bad situations because of how their defence has been playing throughout the season. The fact they are18th in passing yards is a number not to really to be looked at.
When you're talking about Andre Johnson you're talking about one of the best receivers in the NFL. Their passing game is something that you have to worry about, but right now because of the effectiveness of the position their defence is putting them in and also how their running game has been has been quality is what has made a difference for them.
Kev's Call... It's got to be on the Houston Texans just because all the problems the Ravens are experiencing. The Ravens are one of my favourite teams, it's just because the problems they are facing. I think the Texans will get back on track.