Crucial clash
Kevin Cadle thinks the Lions have plenty of work to do but says it is the Eagles who need to win.
Last Updated: 12/10/12 4:42pm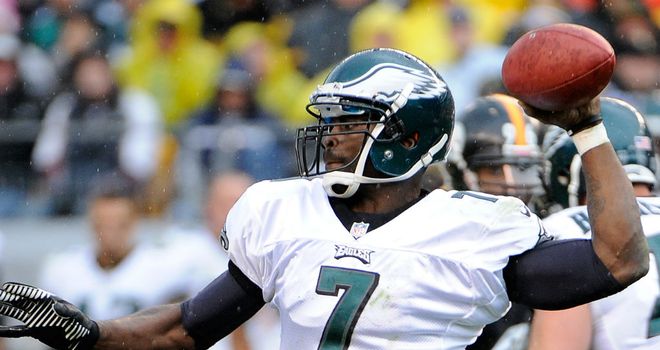 The first of Sunday's live Sky Sports NFL double-header sees the Detroit Lions travel to Lincoln Financial Field to take on the Philadelphia Eagles.
The Lions, tipped by many as Super Bowl contenders before the start of the season, are staring down the barrel of a fourth straight loss but our man Kevin Cadle believes it is more important for the Eagles to win this one.
Detroit Lions (1-3) @ Philadelphia Eagles (3-2), Sun 5.30pm, live on Sky Sports 4HD
The main talking point here is the Detroit defence and what they are going to do. They have been so flaky throughout the season - the defensive line has been much talked about but delivered very little.
As a team people are talking about how well they are coming around but they are 6-10 over their last 16 games. So there is work to do with that team.
They were quite fancied before the season but they are lacking in so many things. Firstly, they have basically zero running game.
If you try and get it done with just the passing of Matthew Stafford and the passing game isn't all the way up to scratch, then your opportunity to win is not good. The only thing they have going for them on the offensive side is the passing game.
Offensively they haven't been the juggernaut they were last season, however. They don't have a running game, defensively they are not doing anything to stop people and their special teams may be some of the worst of all time.
They have given up a punt return and a kick-off return for a touchdown in each of the last two games. That is something which has not happened since 1940 at least.
But in the NFC North right now I don't think you are at the must-win stage. The Lions aren't really playing that well, the Packers aren't really playing that well, Chicago is in and out and you don't really know what is going to happen with them.
Surprise
Minnesota is the big surprise at 4-1 and you don't really want to get too far behind but I don't think at this stage, because of the way the North is, that it becomes mandatory for the Lions to win.
I think it might be mandatory for Philly, they need it mentally more than stat-wise. The only game they haven't been in so far is the game against Arizona, where everything that could go wrong did go wrong.
Every other game they've been in has been a one or two point contest, decided by a play here or there that is positive or negative.
Michael Vick is leading the league in turnovers, he just hasn't delivered the way he's supposed to deliver. It's been kind of strange because he's been fumbling the ball on his own, I've been really surprised and kind of disappointed in Mike's play.
The Eagles have just got to stop kicking their own butt - in their loss against Pittsburgh last week it didn't cost them as far as Pittsburgh going down and scoring points, but it did cost them in terms of being in the area of scoring points themselves and maybe being able to put that Pittsburgh game away.
As far as how the two teams match up - Philly does have DeSean Jackson and if you have terrible special teams he will cause you problems. Also, it will be nice to see that match-up with Calvin Johnson and Nnamdi Asomugha to see how that turns out. There are a lot of little plots going on.
There is a lot of pressure on Philly from their fans. They need this ball game, for Detroit it is important for them to win but if they lose it isn't the end of the world.
Kev's Call... I have to like Philly because of the deficiencies that the Detroit Lions have, especially on special teams.