NFL Preview: Kevin Cadle calls Philadelphia Eagles v Pittsburgh Steelers game live on Sky Sports
Kevin Cadle says if Michael Vick can protect the football the Eagles can win their derby game with Pittsburgh.
By Kevin Cadle
Last Updated: 05/10/12 4:23pm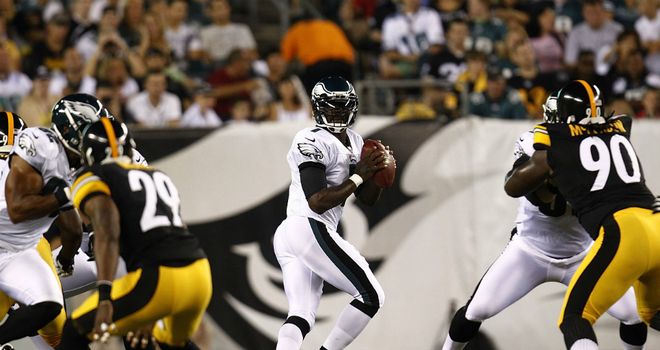 Sky Sports' NFL man Kevin Cadle talks you through this big rivalry game and reveals who he thinks who will come out on top...
Philadelphia Eagles @ Pittsburgh Steelers, Sky Sports 3HD Sun 5.30pm
Pittsburgh are at home, coming off of a bye week, and they've got some big guys back, James Harrison, Troy Polamalu and Rashard Mendenhall, but it doesn't mean all will suddenly be rosy at Heinz Field. These guys have not played all season - they're back but it's about getting back into shape and getting up to scratch and re-forming chemistry
Polamalu and Harrison come back into a defensive fold that needs some help, especially in their sack count, they're one of the worst teams in the NFL in terms of getting at the quarterback. And it will be a help mentally to have those type of players back - two former defensive players of the year - but where they're going to be physically four games into the season is a question.
Mendenhall - he's a decent running back, but even in his prime he wasn't among the top players, he wasn't one of the guys you'd say with Arian Foster, Chris Johnson, Adrian Peterson and Rashard Mendanhall, you know? You wouldn't mention him amongst that kind of company.
He's a solid running back for the Pittsburgh Steelers and for what the Steelers want and what the Steelers need, for him he just has to make sure he takes care of the football, that's a big thing for him and he needs to do that for his team.
With Philadelphia, they've struggled at times but one thing they do is they cover the bottom line, the bottom line is that you win the game, that's what they do.
Three of the four games the bottom line is that Philadelphia had the top score and last week was a big plus for them because it was the first week this season they went without turning the ball over so you wonder if they can keep that up.
The defence has been a lot more consistent than the offence but now if the offence has turned that corner, if Michael Vick has turned that corner for the season then the Eagles are up and running.
Winning ugly
This is the National Football League so you take wins when you can get them. The thing is that it's also a tough one on everybody to continue to eek them out when you don't need to eek them out, so for them they just need to focus on taking care of the football, and if the Eagles start to do that then those tight games won't be tight games any longer.
The Steelers are struggling - they're not only struggling in the AFC North but they're struggling in the AFC play-off picture. Falling to 1-3 would be bad, the chances of making the play-offs at 1-3 are really not that good - I think they're probably ten percent or less in the history of the six-team format.
I think this game ultimately comes down to turnovers, the quarterbacks are going to play a major part as are the defences, but it's going to come down to turnovers, whichever one of these quarterbacks commits the least turnovers is going to be the one who survives.
Heinz Field is a tough place to play, no question, and you've got that added incentive in that it's the battle for bragging rights in the state of Pennsylvania, so there's a lot on this game.
It's for Penn state and you don't get it that often, they might play in the pre-season but who plays in the pre-season, and who really cares?
So you're probably talking once every four or six years that these two teams meet and get it on, so this is a huge game, whether you're a Steelers or Eagles fan you really don't want to lose this one.
Kev's Call... I'm hard pressed on it but I think it'll be Philadelphia who'll come out on top. With Philly coming from Philly, with all the craziness that happens in that city, then I don't think this game will bother them.