Kevin Cadle previews New England Patriots v Buffalo Bills - AFC East clash in NFL, live on Sky Sports
Our Kevin Cadle is torn between his Buffalo Bills and a hurting New England Patriots.
By Kevin Cadle
Last Updated: 02/10/12 11:34am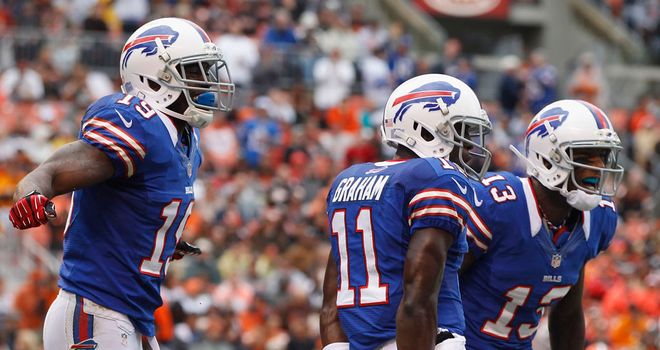 It's a big game for our Sky Sports man Kevin Cadle, with his beloved Bills taking on Brady and Bill Belichick, but who will come out on top in this AFC East showdown?
New England Patriots @ Buffalo Bills, Sun 5.30pm, Sky Sports 4 HD
The Bills seem to have come alive in the last two games, I'm not sure about the competition with the Kansas City Chiefs and the Cleveland Browns - but you can only beat who they put in front of you.
It will be interesting because one of the main weakness for the Bills is their pass defence, they're getting better at getting to the quarterback, and Mario Williams got his first sack last week, they spent a lot of money on him and hopefully that'll start to pay off.
That's going to be the major thing, with the defensive front, how much pressure they can put on Tom Brady, if they can then that's going to make a big difference for the Bills.
Brady hasn't been that bad but it's just the case that their defence has been that bad! They spent a lot on draft choices to pick up guys on the defensive side, but the results haven't shown so far.
They're coming off a game when they gave 502 yards up to the Ravens, so questions about their defence has overshadowed their offence.
Their defence has been like this for the last few years but Terrific Tom has been Terrific Tom - now he's just been Tom Brady and that's just not good enough with the way that defence is playing.
For the Bills QB Ryan Fitzpatrick, the probable loss of CJ Spiller and the loss of Fred Jackson would be big, as they are good dump-off guys you can give the ball too to get out of trouble.
I don't know if I have that much faith in Fitzpatrick, he's averaging under 200 yards a game passing, that's another thing that just jumps out at me and I'm not sure I'm sold on him being the one to carry the Bills in this ball game.
Eight touchdown passes is tied most in the NFL, but still the questions are on him, and he doesn't have Spiller for those swing passes to go do something with. Tashard Choice is an OK back but he doesn't give you that variety that Spiller can.
Spiller has really come on, it's just a case of finding your niche, it took a while for the comfort level to set in on both sides with the coaching staff and with him, but he's now shown he has some ability there and he can make it happen - he's fantastic if you can get him out there in the open field.
But Choice has to be the feature back on Sunday, they have to bring Jackson back slowly if they bring him back this week, and Jackson needs to say that he's going to play even if it's just so the Patriots have to practice for two running backs instead of just the one.
It would be fantastic if the Bills can get a win over the Patriots in a wide open AFC East - if you look at the Jets losing Derrelle Revis that's a big blow to them, we saw when he didn't play how much they gave up passing wise when Revis wasn't in there on one side of the field.
Also, if the Bills beat the Patriots all of a sudden they are 1-3 and that's a very different look to things than they are used to seeing in New England.
Kev's Call...
It's kind of hard for me to go against the Bills but I just find it hard to select them over the Patriots right now. Their back is up against the wall and they are one of those teams that when their backs are up against the wall they respond a lot better than most clubs do so I'm going to have to go with the Patriots.