Problems for Peyton
Kevin Cadle can't see Peyton Manning's Denver being able to live with unbeaten Houston.
Last Updated: 23/09/12 3:07pm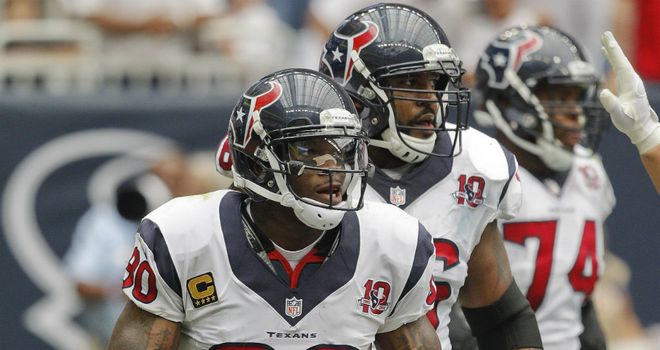 Denver Broncos quarterback Peyton Manning faces another tough test when the unbeaten Houston Texans come to town.
Sky Sports' NFL anchor Kevin Cadle knows Manning will be working hard after last week's poor start, but will it be enough or will Houston give him more problems?
Houston Texans @ Denver Broncos (9.15pm, Sun, Sky Sports 4 HD)
This is the biggest test Manning could have faced. It's the biggest test because for the first time in his career the doubters are out there.
He had six passes last week with three of them interceptions to start the game - it's just so un-Peytonlike - he just saw defences that he wasn't accustomed to seeing.
But the one thing about Peyton, I'll tell you, he's probably up right now in Denver, even with six hours' time difference, I bet he's up there studying to make sure he doesn't make the same mistakes again.
But he's going up against a Houston Texans defence which is ranked number one in the NFL, they give up just 196 yards per game and allow 8.5 points per contest so he's going up against a defence that has continuity and has chemistry from last season.
They've got some replacements but they've got many guys that are still there, and Wade Phillips is in his element there as the defensive co-ordinator.
OK, the Texans can run the ball, but they have one of the best receivers in the NFL in Andre Johnson, Matt Schaub is a very competent quarterback, and just looking at them overall as far as teams go in the NFL, what teams are as good as them? You're talking one hand missing a few fingers before you even start counting!
The Houston Texans team is a very good ball club and it has the chemistry and continuity that you have when you've got the same sort of team coming back year-on-year.
The offensive co-ordinator's back, the head coach is back, so many guys who started for them last year offensively are back, plus the injection of the rookies, it's a perfect situation for the Houston Texans this season.
The Broncos just don't have enough, they've got Peyton Manning but just not enough overall to beat the Houston Texans.
Kev's call...
Got to go with the Texans to move on to 3-0 for the season, their defence is mean and their offence is well balanced and as potent as they come in the NFL. Sorry Peyton, the Broncos just haven't got enough yet to match Houston.
Unbeaten
There are also two matches this week where both teams are unbeaten at 2-0, firstly, I think the Philadelphia Eagles will come out on top from their trip to Arizona. The Eagles are winning by the skin of their teeth despite turning the ball over, but I think this weekend they'll respect the ball a little but more against this ball club in Arizona.
Kevin Kolb has something to prove but he's going to need one of his all-time best days against this Eagles team who defensively have a lot of talent - I think they've got enough to beat the Cardinals.
There's a real toss-up game between San Diego and Atlanta, but it'll be the Chargers who are still smiling at the end of it.
San Diego gets Antonio Gates back, they're getting Ryan Mathews back and even without them they still put over 35 points on the scoreboard.
This Falcons team, they're good on offence, but even though they intercepted Manning a bunch of teams there's still some questions of their defence - so I'm going to go with the San Diego Chargers, with the addition of the guys coming back and the guys who filled in admirably, so at home you've got to go with the Chargers.
The last word goes for the New Orleans Saints, who will finally get a win under their belts against the Kansas City Chiefs.
The Saints' passing game is still a good one. Their defence has been their main weak point but if you look at it, they came up against two of the most mobile quarterbacks in the NFL in Robert Griffin III and Cam Newton.
Next up they've got Matt Cassel, all he does is stick in the pocket so it plays into the Saints' hands from a defensive standpoint. Offensively, they score points and the Chiefs won't be able to stop them.