Who are they?
Kevin Cadle thinks the Jets will get the better of the Dolphins as both teams try to figure out their identity.
By Kevin Cadle
Last Updated: 21/09/12 2:31pm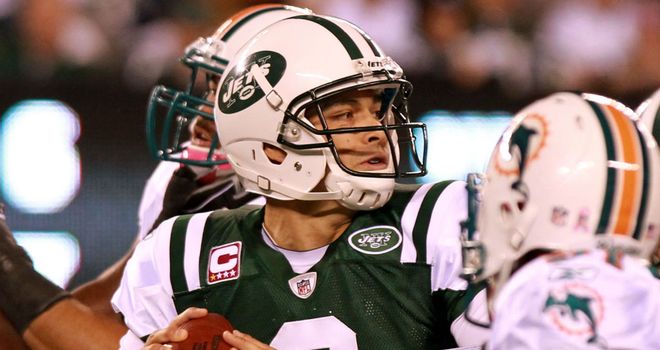 It's a big divisional battle down in South Florida on Sunday, with two teams still struggling to find an identity so far in this embryonic NFL season.
Sky Sports' Kevin Cadle is still waiting to see what these two teams have got as they prepare for an AFC East dust-up in South Florida.
New York Jets @ Miami Dolphins (5.30pm, Sun, Sky Sports 4 HD)
This is an interesting one with it being a divisional game, and I'm still trying to figure out the Jets. Who are they?
Against Buffalo, the Bills turned the ball over consistently and put them in a position to score directly and we weren't really able to see in the last game against Pittsburgh Steelers who they were. Their offence was just null and void, and as a matter of fact their defence was null and void with Derrelle Revis missing, so the jury is still out on the New York Jets.
But then the same can also be said of the Miami Dolphins.
It was important for them to establish the running game last week, and you got Reggie Bush coming out with a career game with 172 yards rushing. They've got a rookie quarterback and they need to keep that running game going - that was big for the rookie Ryan Tannehill that they have a rush attack to chew up some clock, chew up some yardage and take some heat off of him.
It'll be interesting to see what the Miami defence does against New York's offence, though. The Jets receivers are competent, but we'll see if they can get the ball enough to take advantage of the defensive backfield of the Dolphins.
Tebow Mania
We've all heard a lot about Tim Tebow, but personally he's an overrated football player. People talk a lot about a guy who's a second string football player, they spend a lot of time on this guy who's the back-up quarterback.
Mark Sanchez is the starting quarterback and the Jets' best chance is with him, because their best chance is to pass the football. They used Tebow just a couple of times in the last game, his first play was a 22 yard run so I thought they'd have used him more, but they didn't.
However to score points they need to get to the end zone and the best way to do that in the NFL is to pass the football, and Sanchez is the best man to do that.
The Dolphins playmaker looks to be Bush - in his case it's one of those things were a change of scenery was the best thing that happened in his career.
Right now he's off to a tremendous start and with a rookie quarterback he's got to run the football a lot more.
The thing is, everyone was looking at Bush thinking he's got to run outside to get anywhere, but a couple of runs against Oakland were straight up the middle, off-tackle kind of runs, so he showed he doesn't need to be outside to make it happen.
He wants to become an every-down back who can lead the league in rushing, he didn't get that service in New Orleans but suddenly he looks like he can do that now he's getting the football on a regular basis.
Let's see if he can last the entire season, though, as he had a career season last year and he's started off even better so far.
Kev's Call...
I've got to go with the Jets to be successful, both teams haven't really showed us who they are going to be this season but the Jets have had longer with Rex Ryan and should win the day.