Same old Manning?
Kevin Cadle talks Peyton Manning, Andrew Luck and the NFL referee dispute ahead of the big kick-off.
Last Updated: 05/09/12 12:27pm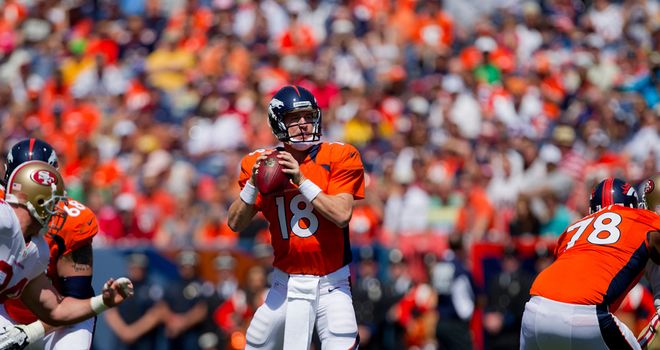 I am delighted that Sky have signed a new deal to show live NFL - it means that people on my twitter account can stop asking me when the deal is going to get done!
It is great for NFL fans, especially as the fan base in the UK is getting bigger and bigger.
First up, the reigning Super Bowl champions, the New York Giants take on the Dallas Cowboys in what should be a fantastic game. They are both in the NFC East division which for me is the toughest to play in - I think they have the hardest schedule this season.
The Giants will have Eli Manning controlling the game and he will be looking for the likes of Victor Cruz and Hakeem Nicks. The Cowboys will be asking a lot of Morris Claiborne to stop Cruz, especially as Claiborne has been injured. It will certainly be a baptism of fire for him.
Referee controversy
What is the NFL without a bit of controversy and this year it is the referees. Any hopes the league would lift its lockout of the regular referees in time for the season opener were dashed when no talks were held between the NFL and the referees.
Replacement referees will take control and that is not good. The players who have been doing their pre-season warm-ups have called these second string officials atrocious and ridiculous and have said that they don't know the rules. The games will probably slow down as their interpretations of the rules won't be up to scratch. That is what happens when you put second stringers into anything. I am sure once we get three or four games into the season and the NFL see some of the things that are happening then they will start negotiating again.
Manning returns
Peyton Manning is back. A fourth neck operation robbed him of the 2011 season but he returns this season - although, four neck surgeries says to me that it is time to leave this game! But Peyton Manning loves playing NFL football! Here is a guy who is heading towards being one of the all-time greatest - not just quarter back's but American football players.
Last season the Denver Broncos were all about Tebow mania but they have a real quarterback now. Tebow mania was just a fad and Peyton Manning is a real football player.
One of the things that helped carry that Tebow mania through was that their defence was outstanding. If they can keep up that defence now that they have Manning in there then they could be a very special team.
It is going to be tough for them because there are going to be growing pains as usual with a new player, new star and new system. But once Manning gets going and comfortable then they could be an exciting team to watch.
Long road for Luck
Another big talking point is the number one pick Andrew Luck. They have been talking about him for years now - if he came out last season when Cam Newton was the number one pick, well Luck would have been the number one pick.
However Luck decided that he was having fun in college football - his Dad was an NFL QB and told him to go and enjoy it and that the NFL would wait for him.
He may not have the strongest arm but he has all the tools that can make plays happen. He has the leadership and the pedigree. He has learnt the game and he sees it completely differently to the way most people see an NFL contest.
The thing is that his team is not going to be that good. There is a reason why you get picked number one and that is because that team did not do that well. The Indianapolis Colts have a new coach, a new GM and the team is going to have to go through a lot of growth before things kick in. We will see him progress and get better year after year.
It is much too early to call the Super Bowl but it seems as if everyone wants to know who I think will win. The great thing about the NFL is that every year 12 teams make the play-offs and every year since 1996 five new teams come into those play-offs. I like the Philadelphia Eagles, they are part of that tough NFC East package, but if they can keep Michael Vick happy then they should be up there.
If I had to pick two teams for the Super Bowl right now then I would go for New England and the Philadelphia Eagles - that would be some Super Bowl.