Bringing the fire
The Giants and Pats are hot, so which way does Kevin Cadle reckon Super Bowl XLVI's gonna go?
Last Updated: 03/02/12 10:13am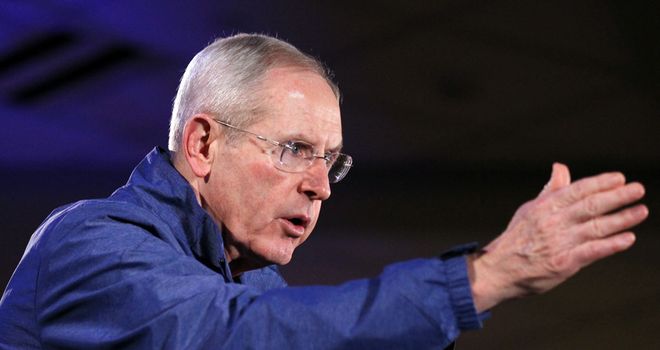 When you're hot, you're hot - and the Giants and Patriots are on it right now.
Super Bowl is it so you'd better pitch up and put in; it don't matter if it ain't a classic. It's all about that Vince Lombardi trophy and taking that ring home.
And you know what? Bill Belichick and Tom Coughlin both reckon they've got a shot and I don't blame them.
The Giants have won five on the bounce but the Pats are double that; they haven't lost since Week 9. Remember who beat them? That's right - the Giants. That's what the deal is.
Just as in 2008, it's Tom Coughlin v Bill Belichick, Eli Manning v Tom Brady, east coast v east coast all over again. It's the first time since either has been back to the Super Bowl in four years.
As match-ups go it doesn't get much better.
Competitor
Much of the focus is gonna be on Brady and Manning and why not?
You've gotta be pretty down on Brady to say he isn't one of the all-time quarter-backs. He's won three Super Bowls already and threw 5,235 yards in the regular season to set up a shot at a fourth.
Tom's a competitor who takes his players along with him to the next level; a lot of those guys in front of him are playing above their station as NFL players because he's dragged them up there.
Eli's another really happening quarterback who knows how to win in the fourth quarter.
He's getting better and better all the time; they've finally put the right weapons around him and he does a good job of delivering the ball now.
I reckon Victor Cruz, Mario Manningham and Hakeem Nicks are the best group of wide receivers in the NFL; if there's a better unit out there I haven't seen 'em.
They don't just do a good job catching it, they gain a helluva lot of yards afterwards.
Performers
Brady's got one of the best tight end pairing goin' with him - Aaron Hernandez and Rob Gronkowski have been tearing it up.
The big question out there is this: what's up with the Gronk?
How good is his ankle, how much is it going to stand up? What's going to happen when somebody falls on him?
You know that's a worry. Sure Hernandez has stepped up when Gronkowski wasn't there so they can still keep it going. But they need the Gronk out there.
There's a reason why the next man is the next man; you definitely lose something if you have to go to the next guy on the rosta and Belichick won't want to do that. No way.
If it is big performers you're lookin at then Vince Wilfork's gotta be right up there.
This is a guy who has come into his own and he stepped up to the next level in the play-offs.
As tackle's go he's one of the best up the middle of the field and is formidable with linebacker Jerod Mayo alongside; together they're gonna make life very tough for those Giants.
This aint no one-way deal. Now way. Not with Osi Umenyiora, Justin Tuck and Jason Pierre-Paul lining up Brady. If it's pressure you want, these guys can deliver - the play-offs proved that!
That's what Brady's looking at and you bet he knows it!
Kev's Call...
The Giants - I've gotta stick with New York even though both teams are hot right now; if they make it into the mid-twenties it'll be a helluva football game! Don't rule out a classic. I really like how the Giants have stepped it up. Eli has got 'em going. You know it wasn't that long that things weren't looking good for him - now he's a potential Hall of Famer. You gotta hand it to him. This is a guy who doesn't just talk a good game - he brings one as well.
The Cadle Guy...
Eli Manning (New York) Manning, Umenyiora, Cruz, Brady, Hernandez, Wilfork... you take your pick, man! This is gonna come down to whatever quarter back has it on the day, you know? Who has the best defence, who can make those yards that just aint there... Manning did it in 2008 and is now up there with the elite. He definitely can deliver. But will he get the chance. I can't wait to see.