SOS call to Flacco
KC says Baltimore need more than their defense against the Patriots - and that means you Joe Flacco!
Last Updated: 20/01/12 5:21pm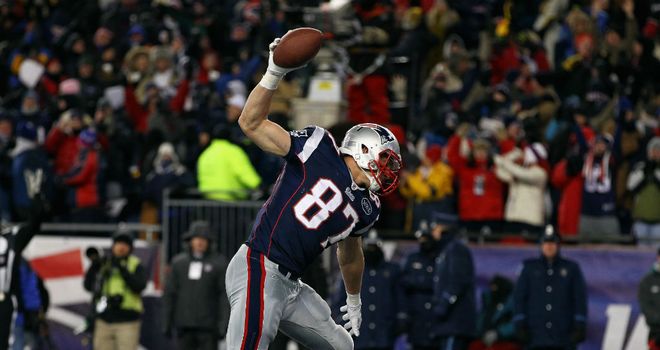 The NFL comes down to the wire as Baltimore travel to New England for the AFC Conference Championship and the 49ers battle the NY Giants for top honours in the NFC.
Kevin Cadle will guide you through all of Sunday's action and says that while superb defenses are key for victory, you also need a quarterback that can make some plays...
Baltimore @ New England (7.30pm, Sun, Sky Sports HD2)
The big question for Baltimore is how do they stop the likes of Rob Gronkowski and Aaron Hernandez? These two guys can make the difference in this game and it will be interesting to see how the Ravens match up against them.
New England really need to get a running game going against Baltimore; they can't sit back and think they are going to pass all match long. However, on the other side, the Ravens have not really been able to get to the quarterbacks and they cannot afford to let Tom Brady sit there and have the ball all day long.
Brady was allowed to do that against Denver and I don't care how many defensive people you have back there, he is going to find some holes and find somebody. There is some doubt over whether Baltimore can get to Brady, but it's either sit back and be killed or go after him - and if you go after him there is at least a small chance he will make a mistake. They have to put some pressure on him.
There has been a lot of talk about Baltimore safety Ed Reed's comments regarding his quarterback Joe Flacco. But, to be honest, he is just telling the truth. There was nothing malicious about it, he was just telling the truth. Everybody in the world can see that Joe has gotta pick his game up. If he doesn't, they are not gonna win.
Flacco cannot afford to play against the Patriots like he played against Houston; if he does they don't have a chance in hell. He has been so inconsistent that no-one knows what he is gonna do; perhaps it was time that someone finally called him out.
He has been on cruise control all year and the thing that has carried Baltimore has been their defense. For me, it was something that needed to be said. Whether it will make a difference remains to be seen.
Ray Rice is vital to the Ravens' game plan. He was key two years ago when he set a franchise record against the Patriots with the second-longest run (83 yards) in the history of the play-offs.
He is up against a different team on Sunday, but when they give the ball to Rice and they run the ball and use the pass off the run versus trying to use the pass to set up the run, then they are a much better team.
Getting the ball to Rice and seeing what he can do will be key. The offensive weapons are there for the Ravens to beat New England but they have to use them in the right manner - and that is using their running game to set up their passing game.
Kev's Call...
New England I hate to say it but I am going for the Patriots.
The Cadle Guy...
Joe Flacco (Baltimore Ravens) - It has got to be Flacco. How he performs will determine how far the Baltimore Ravens go.
New York @ San Francisco (11.15pm, Sun, Sky Sports HD2)
I don't think the fact that the 49ers beat the Giants in the regular season is gonna have any impact on this game whatsoever. The football that the Giants are playing now is much better than what they were playing when they lost to San Francisco earlier in the year.
Both sides have momentum on their side, though, and San Fran had a big win over New Orleans and continue to be at home in the play-offs. The 49ers may look closely at that game against the Saints, however, as despite winning five turnovers, they almost lost that game. They will really need to look at how they attack.
They cannot count on turnovers because there are too many factors that come into play: where are they going to get them? How are they going to get them? What if the other side don't co-operate?
Turnovers are not important. What is important is that when San Francisco get good field position they convert that into points; more of the seven-point variety than what they have done in the regular season with field goals.
The Giants could put offensive numbers on this defense; 49ers quarterback Alex Smith could have the game of his life, but I am not buying that he can do that over and over again.
His biggest challenge on Sunday is going to be the D rush. Will he be able to hold his nerve with the rushes coming after him? The Giants defence are a different unit with their necks on the line and they are really going to get after the quarterback.
The 49ers have one of the best defenses in the NFL but it is a bit of a no-name defense. You have Patrick Willis, but who else have you got there who really jumps out? It works, though, and with the way Eli Manning is playing at the moment, they really need to put the pressure on him.
San Francisco do an excellent job of stopping the run but in the play-offs the Giants have really picked up their running game, so a key factor here is can they keep that running game going and keep the 49ers on their toes?
Kev's Call...
New York - I called the Giants last week and I am sticking with them to do the job again this week.
The Cadle Guy...
Brandon Jacobs and Ahmad Bradshaw (New York) - If Jacobs and Bradshaw can run the football, the Giants should be okay.