Sent Packing?
Kevin Cadle says Houston will fall against Baltimore and tips the Giants to shock the Packers!
Last Updated: 13/01/12 4:35pm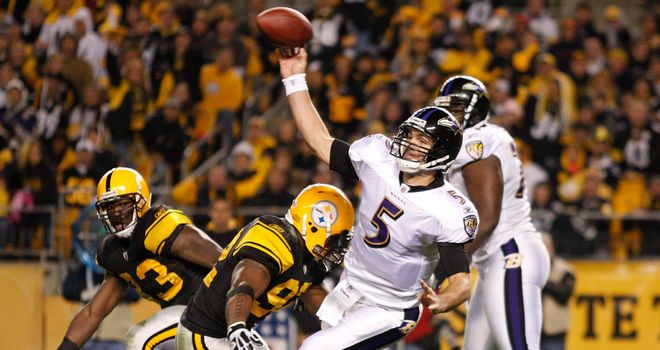 After a superb wildcard weekend, the divisional rounds are next up as the road to the Super Bowl in Indianapolis continues.
Sky Sports' Kevin Cadle will be there to guide you through the games. Here's how he sees them going...
Houston @ Baltimore (5.30pm, Sun, Sky Sports HD2)
The Ravens beat these guys 29-14 in October and that's when Houston had Matt Schaub at quarterback.
The main thing is that the Ravens have to remain focussed on defense and do a job of stopping the running game of the Texans. If the Texans are unable to run the ball, it should be a competitive ball game.
The formula for Baltimore is making sure their defense does their job. If they can hold Houston to a maximum of two touchdowns then they are in pretty good shape.
Joe Flacco has to play well for the Ravens, he has been so inconsistent this season and you just don't know what the hell he is gonna do.
Flacco has the arm and he has the potential but this year he has just not been consistent. So offensively you just don't know what is going to happen. They have been best when they have said: 'Here Joe take the ball and hand it off to this guy over here and let's see what happens.'
It's a shame because this is a very smart offense and it can do some serious damage - especially when they get the ball to Ray Rice who always makes things click into place.
I am expecting Rice to be their go-to man and there should be a nice little battle between him and Arian Foster.
Like Flacco, Houston quarterback T.J Yates has also been inconsistent and will look to Foster and Ben Yates to make their yardage, but I don't see him throwing any big pass plays like Flacco can.
Kev's Call...
Baltimore I expect the Ravens to really pound into the Texans.
The Cadle Guy...
Ray Rice (Baltimore Ravens) - Rice is my main man. They really need to bring him into the game, if he finds his way then that opens so many other things for the Ravens.

New York Giants @ Green Bay (9.30pm, Sun, Sky Sports HD2)
The Giants are hot coming into this Divisional play-off and so they should be.
They have been in play-off mode for the last three weeks and that counts for a lot. They have only given up four touchdowns in the last four weeks so they know exactly what they need to do to be successful.
Their defense has really come alive and Osi Umenyiora is back so now they have that rotation on the defensive line which you want.
There is still a problem with the back four and some leakage on their safety but the whole key to this team is their front seven.
The Giants have played well on the road, their mentality is that whether it's home or away they still have to do the business on the field. They would have said three weeks ago when they started on the play-off road that if they lose then their season is over.
That is what they are playing like - they are a desperate and hungry team and they want to keep that going. To go on the road to Green Bay, well I don't think it is a big deal for them. The weather ain't going to be a factor for them because they play in New York.
They always knew that their Super Bowl journey would be through the visitors' locker room - nothing has changed there.
The difference is that in the last few weeks they have finally found their running game. They were 'naked' when it came to their running game throughout the season. It is interesting that they have had nine games this season where they have rushed for over 100 yards, but the only time they rushed for over 100 and lost was against the Green Bay Packers.
However, they know they can beat the Packers - the potential is there - and they know they can do the pass rush just with their front four.
If they can get to Aaron Rogers and just force him off a slight bit it could go their way.
Kev's Call...
New York - That's right, the Giants are going to be my upset of the weekend.
The Cadle Guy...
Jason Pierre-Paul (New York) - If he can have that game with the defensive line getting after Rogers then that will make the difference.