Blowing in the Brees
Kevin Cadle says the 49ers must slow down Drew Brees and he also refuses to write off Denver.
Last Updated: 13/01/12 12:28pm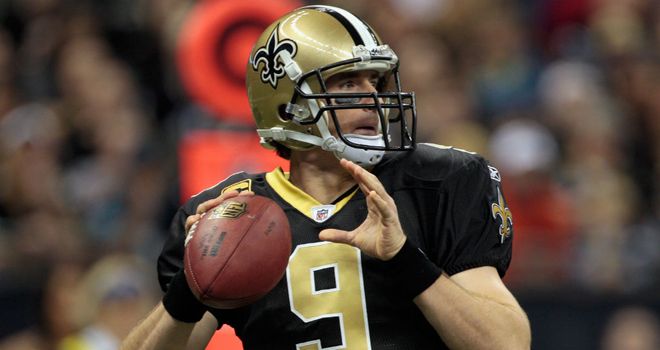 After a superb wildcard weekend, the divisional rounds are next up as the road to the Super Bowl in Indianapolis continues.
Sky Sports' Kevin Cadle will be there to guide you through the games. Here's how he sees them going...
New Orleans @ San Francisco (9.30pm, Sat, Sky Sports HD3)
This game is being touted as the best defense against the best offense but for me the thing that is going to decide this game is what the opposites do.
San Francisco's defense will possibly cancel out New Orleans' offense... so this one will be all about what their offense can do against the Saints' defense.
On the road New Orleans are averaging 27 points a game which is pretty impressive and it is gonna be interesting to see if they can do that at Candlestick Park.
And if they do, can the 49ers' outscore them?
San Fran's David Aker leads the league in field goals which means they are not finishing drives. They have to finish those drives and turn those field goals in touchdowns. It is a tough ask to do something differently to what they are used to. If they can finish their drives then they are in this game, but if they resort to field goals then it is going to be tough for them to win.
There has been some talk about San Francisco not getting the respect they deserve this year but I think they have. It has been a different year with so many other stories going on - Drew Brees going to set a record and the whole Tim Tebow thing. Okay, they have gone from the bottom team to the first and have improved over seven games but it is nothing spectacular. They need not worry about who is talking about them and who isn't and concentrate on the game in hand.
Candlestick Park may yet play its part in this game too. The winds come off that and the home side will be somewhat used to it - if you can get used to wind. However it is a grass field and that is going to be the major difference. Being on grass means a whole different world for the Saints who play on turf.
The 49ers' pass rush will be looking to slow down Brees. You have the two Smiths on either end - Aldon Smith and Justin Smith - who will be coming after him and could pose problems. On the other side New Orleans have three Pro Bowlers on their offensive line and the Saints will have to find some way of harassing Brees and not let him have all day to find who he wants to find. They have to put pressure on him.
Kev's Call...
I still think New Orleans will have too much for San Francisco and expect them to win.
The Cadle Guy...
Alex Smith (San Francisco) It all comes down to him. He needs to have a solid game, take care of the ball and do what he needs to do. If he does that then San Francisco may just have a shot.




Denver @New England (12.30am, Sun, Sky Sports HD3)
Is this game out of the reach for Denver? No, it's definitely not! Every time I go against Tim Tebow he seems to come through and win so I am definitely not ruling them out this week.
Denver will have plenty of confidence from the last time they played New England. They went up into double figures against them and then just exhaled. They will be looking for the same start - but will just make sure that they don't exhale this time. The game ain't over until the game is over!
Let's not forget that they scored 29 points against the No1 defence so the belief should be there.
It's still a case 'who knows' when trying to work out Tebow. He caught the Pittsburgh defense on the hop last week and New England will be wary of that. It was interesting that they changed some of the calls - and that would have made New England sit up and take notice.
Last weekend the Broncos had only passed once on first down the entire game - until overtime! I am sure everybody in the world thought they were going to step back, run the ball, hand off - do anything but pass.
In the past teams have gone up against Denver thinking they can take away the run from Denver, so they have to pass on the third down.
New England cannot do that, because last week showed that they can definitely pass it on them now. It has opened up the offense and they will at least be looking to pass on second down rather than waiting for the third.
Kev's Call...
New England - It has gotta be New England, but I gotta say every time I go against Tebow something always happens, so don't write them off.
The Cadle Guy...
Von Miller and Elvis Dumervil (Denver) - If they can get after Brady and the New England offense then Denver stand a shot in staying competitive until that final quarter and then seeing what the deal is.