Ryan ready to shine?
Kevin Cadle says it is time for quarterback Matt Ryan to step up and show some playoff form for Atlanta.
Last Updated: 06/01/12 12:47pm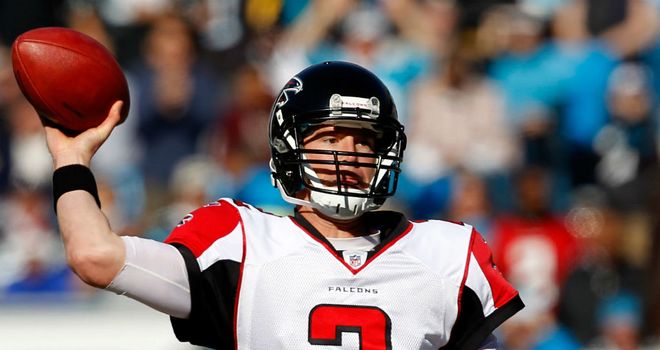 It's postseason - so let's get down to business.
Sky Sports kicks off the playoff season in style with a blistering set of Wildcard match-ups.
Kevin Cadle will be there to guide you through the games. Here's how he sees them going...
Atlanta @ New York Giants (5.30pm, Sun, Sky Sports HD2)
The Giants are making an NFL-leading 31st postseason appearance, but this is the first time they've met the Falcons in the playoffs. It's gonna be huge.
Eli Manning keeps doing his thing for the G-Men - he's bang on to crack 5,000 passing yards - but the real difference this year for the Giants is the defense.
Justin Tuck and Jason Pierre-Paul have turned it on and Osi Umenyiora is back in now, which can't be a bad thing at all. A bit of defensive rotation has helped to keep the ends fresh and together they've been doing the job.
Manning might be the man but you can't say Victor Cruz hasn't been special this season. What's really impressed me about his game is his breakaway speed; once he catches it and gets into gear nobody is going to catch him.
This could all be about the Giants' front four though; I'm really looking forward to seeing if they can get after Matt Ryan and put enough pressure on him to stop the Falcons' running game.
It's their first showing in the playoffs since 2008 and they'll be doing all they can to put up a mean defense and keep those home fans happy.
They'll be encouraged by Ryan's playoff form. At the end of the day you get judged in NFL by 'what have you done for me lately' and 'what have you done in the playoffs'.
Ryan is 0-2 in playoffs and he'll be determined to show he can win a playoff game, particularly on the road - just like Joe Flacco and Mark Sanchez can. Those two have won four games each on the road, while Ryan is still searching.
He's proved in the regular season that he can be very effective at home but I'm looking to see where he is at when it comes to the Giants Stadium with all the noise and pressure that comes at you - as well as the Giants' defensive line!
I've heard plenty of people say Michael Turner has been inconsistent this season without realising that the emphasis has changed.
The Falcons drafted Julio Jones and have looked to be more explosive when it comes to passing the football, which has had an impact on Turner's contribution.
Kev's Call...
New York Giants - It's kinda simple, this one. They're gonna play tight, defensive, hungry football and I like their chances because of that.
The Cadle Guy...
Brandon Jacobs (New York Giants) - Keep an eye on Ahmad Bradshaw too. He and Jacobs stack up well and have plenty of good yards between them; that running game of New York can hurt you.
Pittsburgh @ Denver (9.30pm, Sun, Sky Sports HD2)
Points win games and the fact is Denver ain't getting enough of them right now, which makes me think Pittsburgh will have their way with the Broncos on Sunday.
Any time that Tim Tebow decides to take off and run that option, Pittsburgh will relish the chance to take his head off. This one could get nasty.
The Broncos finished the regular season back to front, losing their last three games but coming out with the division title. Don't be fooled by those running stats - points are a big problem and Tebow has to forget about that display against Kansas City.
People have caught up their offense and started saying 'what else have you got for us, what else can you do?' Recently they haven't come up with the answers but they'd better soon.
Willis McGahee has gotta do his job but so has the whole offensive line. The defense did a very good job against Kansas City last week but if you only score three points it's going to be pretty tough to beat anybody.
At this stage of the year it's a big blow to lose any of your significant players; there's a reason why one guy's a back-up and another's a star. Losing players like Chris Kuper is going to make a difference for them.
The Steelers have a blow of their own to contend with - the loss of Rashard Mendenhall's yards but Ben Roethlisberger still has plenty of other options to hit and probably will.
Mendenshall has been the Steelers' main man for the last two years and Roethlisberger's ankle is banged up a bit but I'm still expecting the Steelers' running backs to find some decent yardage out there.
Safety Ryan Clark is another important player to miss out but hey, they've found out about his condition and he won't put himself at risk again at altitude. That's what's important.
You know what? There's no reason why Mike Tomlin shouldn't feel pretty confident going into this match - the team's records tell their own story and it should be one-way traffic.
Kev's Call...
Pittsburgh - They're clear favourites for this one and for good reason.
The Cadle Guy...
Ben Roethlisberger (Pittsburgh) - He'll be out there, don't you worry about that ankle injury and even if it doesn't hold up too well he should still have too much to bring down Denver.