Into the Wild
Kevin Cadle previews the postseason and predicts tough tests for T.J. Yates and Matthew Stafford.
Last Updated: 06/01/12 9:44am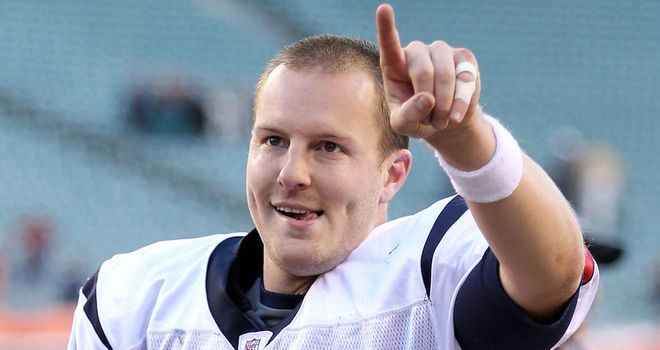 It's postseason - so let's get down to business.
Sky Sports kicks off the playoff season in style with a blistering set of Wildcard match-ups.
Kevin Cadle will be there to guide you through the games. Here's how he sees them going...
Cincinnati @ Houston (9.30pm, Sat, Sky Sports HD2)
Both these sides lost in Week 17 but you know what, who cares?
Postseason is a whole new season - no matter the Texans are on a three-game losing streak. The slate is clean. Even that bad snap against the Titans is gone. Forget it, move on. The Texans have got it; they've finally made it to postseason.
Sometimes when you do something that has never happened before you lose focus and fail. Now they have to get back on track. If they were on the road recent results might bother them but it's a whole different story now they are at home.
T.J. Yates has been in and out so this is a huge test for him - even more so if he doesn't shake off the flu; obviously losing Andre Johnson was a big loss for him to have to deal with and Arian Foster didn't play in the last game either.
If they are gonna be successful they are gonna have to give the ball to Foster and Ben Tate, but allow Yates to stretch the defence every once in a while and put his aim where he wants. Right now it's a limited programme for him as quarterback.
The defense has been solid for much of the season but needs to get back on track. When defensive co-ordinator Wade Phillips went out for those two games they lost a bit of their oomph and impacted on the whole team.
They lost their focus too many times against the Titans and they need to get it back quick if they are gonna survive.
Foster is big for Houston; he's been very productive. Where Foster goes, the offensive line goes and if Johnson makes it back, that'll be huge too.
Cincinnati are 0-7 against the postseason teams but that's history. Are they gonna worry about that or go out and worry about winning a football game?
They are a decent road team but they need a big game out of Cedric Benson; they need the running back to adventure into the back field. That will ease up a whole lot of things for Andy Dalton and A.J Green.
The work done by Benson and Bernard Scott is crucial; the running game is key for the Bengals. They are two very different types of running back but they complement each other very well.
This is game number 17 for Dalton - so his rookie year is over. Whatever has to be seen, he's seen it. He just has to make sure he's as prepared as he can be. It's gonna be tough because Wade Phillips is gonna try and pull some new things at him but playing four games against Pittsburgh and Baltimore should have really prepared him to take on this Houston team.
Kev's Call...
Houston - You know, this could be a close one but I've gotta go with the home team.
The Cadle Guy...
Cedric Benson (Cincinnati) - It's all about Benson. Houston have gotta make sure they do a job on him because if they don't, the Bengals have got a shot.
Detroit @ New Orleans (1.00am, Sun, Sky Sports HD2)
You know, this could just be the game of the round and will be all about whose defence can step up and perform.
Matthew Stafford has been hot for Detroit since the Lions went down 31-17 to New Orleans but he'd better be ready because Gregg Williams is gonna come after him with the blitz.
Stafford has not been the greatest quarterback in the league going against the blitz and you wonder why more people don't try it a little bit more.
Detroit haven't been in the playoffs for 11 years and they owe Stafford plenty for helping them get there. He's had a fantastic year, throwing over 5,000 yards - there aren't many quarterbacks out there who can say that.
The bad news for him is that one of them is on the other side! Detroit have to find a way to get to Drew Brees otherwise it's gonna be game up.
Ndamukong Suh might be the man for the job; he has set his standards consistently high and was badly missed when these two teams met in December.
All the stuff that he's done in the past really doesn't matter - it's all about whether he can win with this team or not. He can be a dominant force down the middle and has to make his presence felt.
The New Orleans offensive line is tough to crack; there are three Pro Bowlers on there in Jahri Evans, Jermon Bushrod and Carl Nicks. These are guys who have been together a little while and have a good chemistry together. They've given Brees fantastic support and he's taken it, throwing for 5,476 yards.
New Orleans will have to watch out for Calvin Johnson but overall they have a greater variety of receivers to hurt you and win the ball game.
Kev's Call...
New Orleans - This is a coin toss. The Saints can let it slip, as they did last year when they went down to Seattle, but I think they have a better running game than the Lions.
The Cadle Guy...
Let's see! - I'm not calling this it's way too tough. The Cadle guy will be whoever is the best, most effective player on the offensive line of the New Orleans Saints.