Yule love it!
Kevin Cadle gives his take on the festive match-ups, as the Giants play the Jets and Philly visit Dallas.
Last Updated: 22/12/11 2:08pm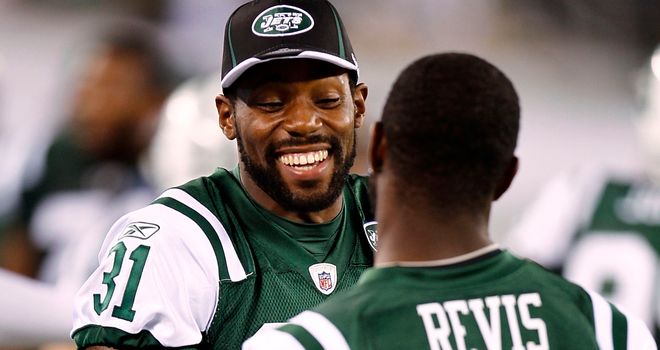 Sky Sports will be giving you a double dose of NFL entertainment on Christmas Eve to get you right in the party mood.
First up is a rip-roaring New York derby which sees the Giants and the Jets square off, and then we're off to Dallas to watch the Cowboys battle the Philadelphia Eagles.
Our footballing guru Kevin Cadle took a brief break form his mince pies and mulled wine to preview the big games...
Giants @ Jets (5.30pm, Christmas Eve, Sky Sports HD1)
The Giants' play-off hopes are not over until the fat lady sings, but their inconsistency could cost them. They've lost five out of six and you don't know which Giants side is going to show up from game to game
They do a great job and survive against Dallas and the next week they are as flat as can be versus the Redskins, when they could have won and kept pace with the Cowboys. But they are still in it and if they win two games they are in the play-offs.
However, if the Giants lose and fail to make the post-season, then their coach, Tom Coughlin, is gone. There is no way he will remain in charge of that team.
The Jets, meanwhile, were beaten by Philadelphia last week but I expect them to respond; people in New York don't lack resilience. Dealing with that notoriously difficult press will ensure they wake up.
Coach Rex Ryan takes all the pressure off his players and says: 'If we don't win, it's down to me'. His team can then relax, go out there and do what they need to do.
New Yorkers look forward to this game at all times but this is extra special because this is one of the first times the teams have met during the regular season. For years it's been in the pre-season but this match will really count. There is so much at stake.
The Giants are the big brother of the city. They've got the Super Bowls, the pedigree, they were the first New York club to be named, the first New York club to win a championship. History certainly favours the Giants, but it's a huge game for both organisations, in terms of points and bragging rights.
Kev's Call
I'm going with the Jets and their defence. I think they will put last week's debacle against Philly out of their minds and come out and do what they're supposed to do.


The Cadle Guys
You've got to look at the New York Jets cornerbacks; Antonio Cromartie and Darrelle Revis. Their jobs will be to put the Giants' receivers down. I think they will help their team to be kings of the Big Apple.


Philadelphia @ Dallas (9pm, Christmas Eve, Sky Sports HD1)
Dallas are having a reasonable season, yet coach Jason Garrett's future seems under threat. Who knows what's on Cowboys owner Jerry Jones' mind?
They have blown some fourth-quarter leads and that loss to Arizona in overtime was particularly frustrating, but there is talent there and Garrett is only in his first year in the job.
I suppose every coach is only one loss away from losing their job, but a win for Dallas on Saturday could see them become champions of the NFC East.
Philadelphia need to win and hope the Giants lose to the Jets to keep their hopes alive of winning the NFC East. That puts them in pretty strong position. Whereas other teams have certain permutations, the Eagles have to focus on themselves and not worry about what goes on elsewhere.
Philly say they won't concern themselves with the Giants-Jets result, but they will know what has happened through the loudspeakers in the Cowboys Stadium. Are they going to put their hands over their ears every time they say who won?
Cowboys defensive co-ordinator Rob Ryan said that the Eagles are an "all-hype" team and that Dallas would "beat the ass" of Philadelphia when they played. Tthat didn't happen earlier in this season, did it? The Eagles torched them 34-7.
I think Ryan has tempered his comments since then and he needs to. His time should be spent doing a better job of coaching his defence. If Dallas are to win this game, they need to find a way of controlling LeSean McCoy and Michael Vick.
Kev's Call
For the first time since Dallas have been at the Cowboys Stadium, they've decided to go and win some ball games in it. That might give them the edge in this match, even though Philly smashed them in the reverse at the Lincoln Financial Field.
The Cadle Guys
The quarterbacks will play pivotal roles in this big NFC East match. If Michael Vick has a great game, the Eagles should win, if Tony Romo has a great game, Dallas should.