Shock treatment
Indianapolis finally won last week, but KC says normal service will be resumed against Houston.
Last Updated: 22/12/11 10:49am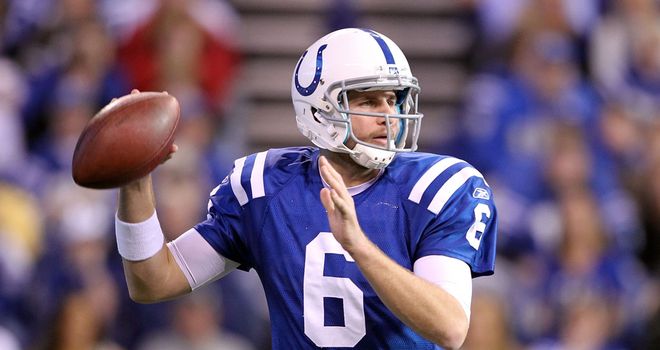 There was much joy in Indianapolis last week as the Colts finally won a ball game!
After losing their first 13 games of the season, Jim Caldwell's side tasted victory on home turf against Tennessee, beating the Titans 27-13.
The Colts didn't use a different game-plan and I didn't notice any slight tactical adjustments either. It was just a case of guys who haven't showed up all season long showing up.
Donald Brown made some good runs, and while quarterback Dan Orlovsky wasn't great, he was good enough; he didn't turn the ball over for the first time since Week Five and when a team doesn't turn the ball over, and steals some turnovers of their own, they have the chance to be successful.
You could see the confidence grow in the Colts camp as the game went on. They stayed in contention - something they have not done enough matches this year - saw an opportunity and grabbed it.
Struggled
Orlovsky's patchy form and Peyton Manning's injury troubles means the Colts have struggled at quarterback this season - as well as a lot of other positions! And when you don't have a prime-time guy in that area, you need to go and get one.
Indianapolis are expected to pick Stanford University quarterback Andrew Luck as their first selection in the 2012 NFL Draft.
I don't think there is a significant jump between him and the other college guys, but because his father, Oliver, was a quarterback, his pedigree is being based on that.
The Colts could always go after him and miss, but they cannot afford to not go after him and watch him become a star with someone else.
There are also reports suggesting Manning may have played his last match for the team. Can I see that happening? He is 35 years of age and has had three neck surgeries. Damn right I can see that happening!
He is in a position where you're vulnerable every time you step back to pass the ball. The Colts will make the judgment on it soon, but whether it's this year, next year or the year after, the team need to move on.
Blunder
Indianapolis' opponents, the Houston Texans, will be looking to bounce back from a big blunder last week. The schedule was set-up for them to be the number one seeds in the AFC play-offs. They faced Carolina last week and Indianapolis this week, two games you should wrap up like a bow tie.
However, Gary Kubiak's men lost 28-13 to the Panthers and probably took their rivals for granted. The Texans had won seven in a row prior to that and sometimes when you go on such a good run you do get a little bit cocky. Their kicking game also let them down - but I don't see them making the same mistake two weeks running.
Houston have had a lot of injuries this season but their squad depth has pulled them through. It's a lesson for all teams to follow; you have to prepare for the inevitable. You're going to pick up injuries because it's a man's game, so you have to be able to come up with a new strategy and fresh personnel when your star players have gone down.
Kev's Call
For the Colts to have a chance of back-to-back victories, they must do what they did last week and not turn the ball over. But the Texans will be determined to respond to last week's surprise defeat and I expect them to win quite comfortably here.
The Cadle Guy
TJ Yates has just started getting back to managing games, but I'll say Arian Foster. The Texans need a big afternoon from their star running back. If he makes things happen, Houston will win.