A Giant shock
Kevin Cadle calls the Sunday games and says Green Bay's winning streak could come to an end.
Last Updated: 01/12/11 4:20pm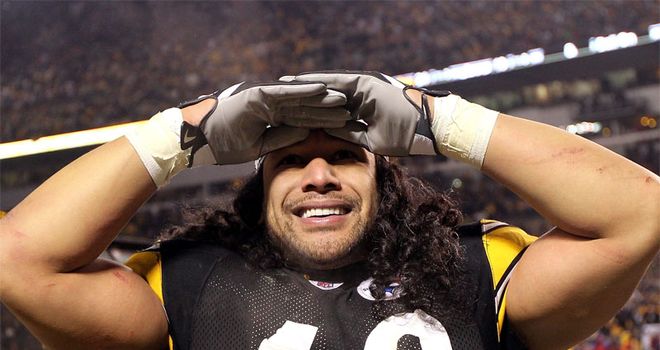 Sky Sports is bringing you a double dose of NFL entertainment on Sunday with two great matches in store... in HD.
Kevin Cadle will be there to guide you through the games as usual and here's how he sees them going...
Cincinnati @ Pittsburgh (5.30pm, Sky Sports HD3)
This is a tough one. Cincinnati had the opportunity against Pittsburgh last time out but just came up short.
They had a great win against the Cleveland Browns though and it keeps them in play-off contention. Cincinnati has had a great season, it has been a big learning curve for them, and after last year they have improved a lot with a record of 7-4.
But although the Bengals have got a lot better, I think Pittsburgh will have a little bit too much petrol for them.
If Cinicinatti don't win another game it's still been a great year. The next step is whether they can take on the Pittsburghs, whether they can take on the Baltimores, the New England Patriots...
The talent is definitely there. They've got some good players but every team has stages that they have to go through.
It's an AFC North rivalry and anything can happen in a game like this. It will be tight but Pittsburgh knows, at this time of year, what you've got to come with.
They've got a lot of injuries though which could have an effect. They still don't know what is happening with Troy Polamalu, he could play after a head injury but initial concerns on the defense player have gone down.
Also their linebacker position is difficult at the moment for them. Every week there is a new guy down with an injury. So they have problems that they need to sort out.
It was a much-needed focused win against Kansas, but it could have cost them Polamalu.
With Pittsburgh at 8-3 and Cincinnati at 7-4, they hold both wild card spots in the AFC and this is a really critical one.
Kev's Call
I'm backing Pittsburgh. It'll be a close match and there are a lot of things on the line for both teams. It'll be a tough game.
The Cadle Guy
Rashard Mendenhall - For me the man to watch is Rashard Mendenhall. The Steelers need to get something out of his running game. That's the thing that has been a bit inconsistent. The running game needs to get established.


Green Bay @ New York Giants (9.15pm, Sky Sports HD3)
Green Bay's run has got to come to an end at some stage and I can see a Giants upset - why not?
They don't have a damn thing to lose and this would be a big win for them, plus it would keep their season on the brink.
If they lose and the Dallas Cowboys win then it's pretty much over for them as the Cowboys will have a two-game lead, so their season is definitely on the edge. That's why I'm going with the Giants to make something happen.
If the Giants can get after them, I think they can do a job on them - Green Bay's pass defense is poor. New York has shown that they can with the ball and with Eli Manning's passing game, he's doing his job and eliminating turnovers.
The only thing is a lot of other stuff in their team can fall apart. The Giants were defenseless against New Orleans and that is a worry. But the game is in New York so I'm going with the Giants.
But let's not forget Green Bay are unbeaten at 11-0 this season. Some people say that when you're on a run like that it's good to sometimes get a defeat out of the way - but why not keep on winning?!
Rumour has it that it may be good to get a loss if you are safe but I don't know - this Packers team just wants to win and win and win.
Don't forget they could take the NFC North with a win as well as a loss for the Detroit Lions against New Orleans.
It would be monumental if they keep this run going. Green Bay has won 17 straight - four shy of the NFL record including the playoffs. But I think that's going to end.
We'll see what happens with Erik Walden and if he plays, if not then they have others to step up.
New York has their back against the wall after three straight defeats but they put themselves in the positions to win games, they just drop away at the back end.
Kev's call
I'm backing the Giants to end their losing streak - I'm going to bet exactly one pence on it!
The Cadle Guy
Eli Manning - It has to be Eli Manning, because he has to take care of the ball. Green Bay's interception record is the highest in the league, so Eli is the key for New York. He has to protect the ball and if he can do that, then the shot is there for them.